The Department of Science and Technology – Advanced Science and Technology  Institute (DOST-ASTI), spearheaded by their Technology Licensing Office (TLO), conducted a Technology Transfer Activity and Stakeholder's Meeting last 29 June 2020 via Zoom Cloud. This virtual event was attended by some investors, private companies, potential end-users, fellow DOST Regional Offices and technology enthusiasts. This activity aims to source out possible adaptors and licensees of their technologies.
The speakers on this event included Atty. Lucieden G. Raz, Project Officer V, DOST-TAPI; Engr. Roel M. Dela Cruz, Sr. Science Research Specialist, DOST-ASTI; Ms. Roxanne S. Avinante, Sr. Science Research Specialist, DOST-ASTI; Ms. Camille L. Larios, Science Research Specialist II, DOST-ASTI; Engr. Jericho C. Capito, Science Research Specialist II, DOST-ASTI; and Ms. Maria Irene S. Amatorio, Sr. Science Research Specialist, DOST-ASTI.
Among these featured technologies, DATOS and Kooha, are undergoing the HIRANG Internship Program of the Technology Application and Promotion Institute (DOST-TAPI) under DOST project, "Support to the Commercialization of 500 DOST-Generated Technologies and Strengthening the Country's Intellectual Property and Technology Portfolios".  Hence, hitting two birds with one stone, the DOST-ASTI TLO, as HIRANG Internship team, took the opportunity to make use of this online conference talk to conduct customer discovery to private sectors as added data to their target markets identified through Valuation reports. Through this event, they found possible investors and venture partners for their spin-off as licensee to the mentioned technologies.
The head researchers of DATOS and Kooha, Engr. Dela Cruz and Ms. Avinante emphasized what the technologies are all about and their technicalities highlighting on their significant contribution to society. Atty. Raz of DOST-TAPI presented and explicated the provisions of the standard Technology Licensing Agreement (TLA) of DOST, which is a partnership between a technology developer who holds the intellectual property rights for the innovation (licensor) and another who is authorized to use the rights for such technology (licensee) for a period of time in exchange for an agreed payment scheme (fee or royalty). Ms. Amatorio elucidated the viability of the technologies in the commercial side and emphasized the technology transfer by exploring business ventures in DOST-ASTI.
Through this affair, the DOST-ASTI HIRANG team received positive feedback from the attendees and requests for updates and news to pass on to other interested parties.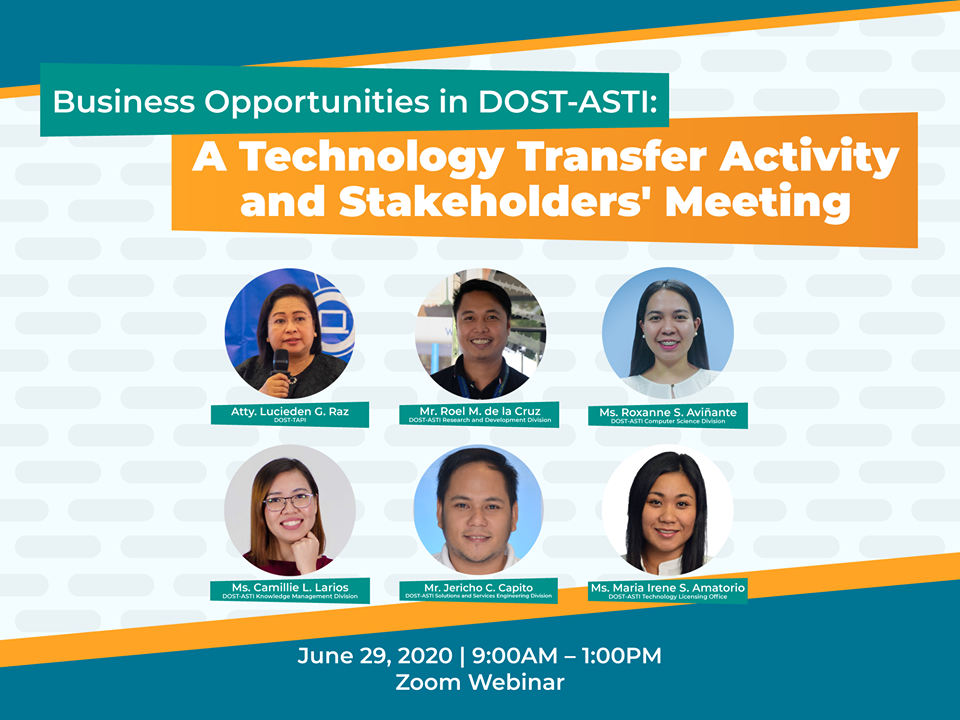 ​
*Photo grabbed from the Facebook page of DOST-ASTI Technology Licensing Office
DOST-TAPI
CZARINA MAEH J. TORRIGOZA