"Nakita ko po na nagpost ang MOST [ng] link [for the] Invent School Program. It [said] that all high schoolers or young inventors… pwede po mag join. So sabi ko po sa sarili ko, I should give this a try."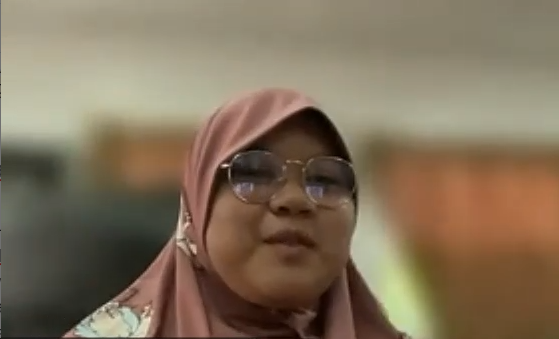 Muhafidza Abdulkhuddos first heard about Invent School from a post on the Ministry of Science and Technology (MOST) Facebook page.
Hailing from Sultan Kudarat, Maguindanao, it was Muhafidza's first time attending the program. She, a Grade 7 student, was also the lone representative from Cotabato State University Laboratory School.
"It [was] my first time to join any online workshop or webinar po," Muhafidza said.
The Invent School Program  is a two-day seminar-workshop organized by the Technology Application and Promotion Institute of the Department of Science and Technology (DOST-TAPI). As one of DOST-TAPI's programs for capacity-building and education, Invent School aims to cultivate creativity and inventiveness in elementary students as young as grade 4, high school students, and college students.
The seminar-workshop is composed of a variety of talks, games, and activities that have been conducted through online video conferencing since 2021.
An Invent School Program was conducted in early July with schools from the Bangsamoro Autonomous Region in Muslim Mindanao (BARMM) in partnership with the Ministry of Science and Technology (MOST).
However, not only students were invited. It was also Ma'am Maribel Cornelio's first time attending the Invent School last July 7-8.
Ma'am Maribel is a Grade 7 and Grade 10 Science teacher from Sultan Kudarat National High School. She first learned about the Program from a former colleague. And when given the chance to register, she jumped at the opportunity.
"Sabi niya 'Ma'am, can I invite you?'… Then sabi ko, 'Go! Why not? Gustong-gusto ko yan. (She said, 'Ma'am, can I invite you?'... Then I said, 'Go! Why not? I'd really really like that.)
"Yung may mga ganitong event po, kahit po hindi nga ako na-invite, minsan ako na 'yung… 'Pwede ba magsali?' Kaya I was very eager to [learn] talaga.
(If there are events like these, even if we aren't invited, sometimes I'm the one to ask, 'Can I join?' Because I'm very eager to learn.)
The two Grade 10 students she invited were equally excited. Despite concerns about the intermittent internet signal and electricity in their area, both the teacher and her students successfully registered.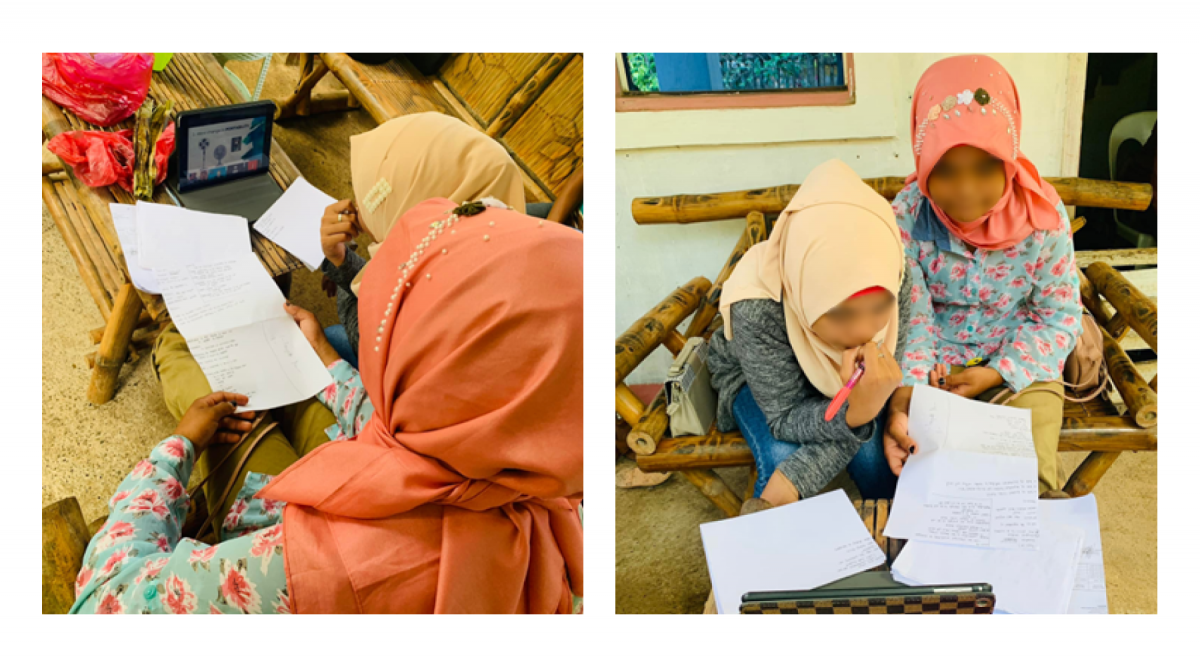 High school students from Bai Monerah Abas-Asim High School attending the second day of an ISP workshop last July 22. Photos from the Bai Monerah Abas-Asim HS Facebook page
Collaboration and engagement in online workshops
For Muhafidza, the Invent School was far better than her expectations. As someone who didn't consider herself creative, she initially struggled with some of the activities.
"One time po, I remember our first workshop where we were assigned to do a paperclip design. So I was really having a hard time … especially since alam ko po sa sarili ko na (I knew for myself that) I wasn't creative enough to do such designs."
"Pero po  (But) one time, I made one piece, of paperclip design, and I was so happy and relieved at the same time, I remember I was so excited I showed it to my parents, and I was running and jumping around the house like, really for that one piece I made with the paperclip po."
Aside from the paperclip activity, Muhafidza enjoyed other activities in the program. Even the lectures had an interactive element called quick quizzes, which helped keep students alert.
"Na-exercise po ang brain ko with the quick quizzes po, with the lecturers. Feel ko you really need to be attentive to understand or answer their quizzes. Kelangan mo kasi mag focus, kasi po medyo unexpected."
(My brain got exercised from the quick quizzes, with the lecturers. I felt that you really need to be attentive to understand or answer their quizzes. You need to focus because it was slightly unexpected.)
The games and workshops were also done by group, encouraging students to collaborate.
"I really had fun interacting with the other participants and the mentors... in the future po, if meron po silang mga bagong (if they have new) program ike Invent School, I would like to recommend it for other students... to join, because there is a lot to learn."
One particular quote from a program host, Engr. Richelle Malaay, struck her.
"Sinabi po ni Ate Rich before starting the game, 'We are born with creativity, maybe we just don't know yet because it is not awakened yet.'"
Successes and struggles under a virtual setup
Invent School's virtual setup didn't dampen students' enjoyment of the experience. However, a half-day blackout and a shortage of mobile data load kept Ma'am Maribel's students from attending the whole program. Muhafidza also reported slow internet speeds and electricity shortages interrupted most of her fellow participants.
"Nagle-learn din tayo dito, but then no choice naman tayo sa ganitong situation po natin, so we must adapt," Ma'am Maribel said.
(We are still learning, but we have no choice in this situation, so we must adapt)
Still, Invent School's virtual setup was a good opportunity for learning despite the distance, according to Ma'am Maribel. But how much more, she added, could students learn from Invent School in a face-to-face setup?
Ma'am Maribel also wished each of her students could have their own gadget to attend programs like Invent School.
"Hindi man natin masasabi na one is to one talaga may mga gadget ang bata. May mga gadget nga, pero hindi capable naman sa internet access. So something din na magkakaproblema."
(We can't say that one-is-to-one, each child has a gadget. Some have gadgets, but these aren't capable of internet access. So it's also a problem.)
The system at her school, especially in her Science class, was to assign students to groups for gadget-sharing. These groups were usually composed of students in the same neighborhoods. This made it easy for each group to view online lessons at the house of whoever had internet access.
"Sabi gani ng estudyante ko ma'am, 'Wow, sana all.' Pero sana daw lahat nakapag-join dito. So that they can experience ano na-experience nila na virtual."
(Like what my students said, 'Wow, sana all.' They hoped everyone could join [this program]. So that they could experience what they experienced virtually.)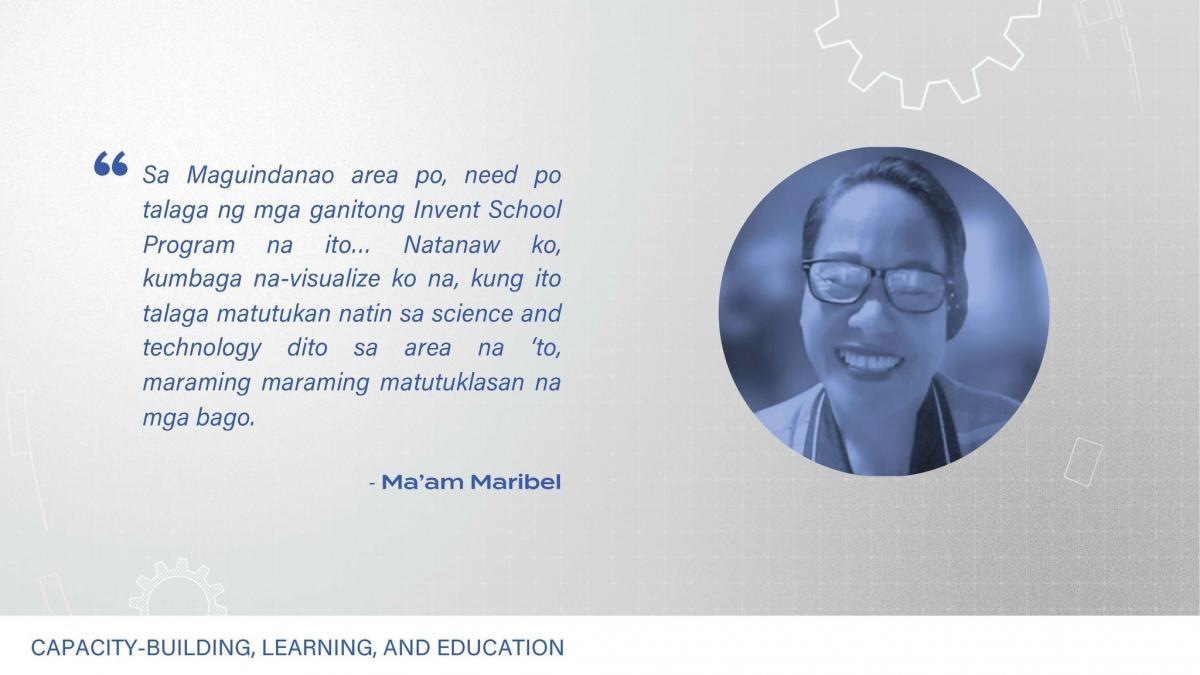 Miss Maribel Cornelio is one of the first-time participants of the Invent School. She reflects on how the said program was able to nurture a vision that was already existing in the children among their area.
Cultivating a spirit of inventiveness
Despite these difficulties, Ma'am Maribel reported that her students were already thinking of inventions they could develop after the program.
"Sabi nila, 'Ma'am, nakatulong talaga itong science and technology sa atin, noh?' Kasi parang kino-compare nila ang noon at ngayon… Sabi nila, 'Kahit in a simple way… Ma'am, pwede po mag-invent tayo?" Sabi ko, "Sige daw, mag-isip kayo!"
(They said, 'Ma'am, science and technology really helps us, right?' It was as if they were comparing the past and the present… They said, 'Even in a simple way… Ma'am, can we invent something?" I said, 'Sure, think of something!')
Once, Ma'am Maribel's students presented her with the fruits of a pepper tree, suggesting they could make ink out of it. With her guidance, they made a few trials but weren't able to pursue the project due to a lack of time. Still, she encouraged them to pursue their invention ideas.
"'Yung mga bata madami silang alam eh, lalong lalo na ngayon 'yung mga younger ones ngayon. Iba talaga 'yang mindset din nila… [para sa] gusto nilang abutin."
(Kids know so much, especially the younger ones today. They really have different mindsets… [for things] they want to achieve.)
A need for more science and technology programs
Ma'am Maribel also stressed the need to push for programs like Invent School.
"Sa Maguindanao area po, need po talaga ng mga ganitong Invent School Program na ito… Natanaw ko, kumbaga na-visualize ko na, kung ito talaga matutukan natin sa science and technology dito sa area na 'to, maraming maraming matutuklasan na mga bago," Ma'am Maribel said.
(In the Maguindanao area, we really need things like the Invent School Program… I can imagine, it's like I can visualize, if we really focus on science and technology in our area, we would discover so many new things.)
"Na-appreciate [ko] talaga na, 'Wow, 'tong mga batang 'to, kung tutukan at tutukan lang ng mga magaling na mga teachers, talagang… boom talaga, meron talagang production na magagawa."
(I really was able to appreciate that, 'Wow, these kids, if they were given proper attention by great teachers, they'd... they'd boom, they'd really be able to produce things'.)
Invent School introduces students to methods for cultivating their creative knowledge and  raises awareness on Intellectual Property Rights (IPR) and Protection. It covers topics such as creative thinking, ideation tools and techniques, invention development, prototyping and awareness, and basic patent drafting. All these serve as a fundamental foundation for future Filipino inventors and entrepreneurs- and in extension, national development.
Inspire students to become inventors - click here to learn more at the Invent School page on the TechTrans site.
Interested schools, NGOs, or LGUs can send a letter of request addressed to the director of DOST-TAPI through this form with an attached project proposal and endorsement letter from the DOST Regional Office.
Jill Parreño
DOST-TAPI S&T Media Service