The Department of Science and Technology – Philippine Textile Research Institute (DOST-PTRI) embarked on the HIRANG Internship Program with their technology Upscale Natural Dye (UND) as part of maximizing their efforts to promote the application of Philippine natural dyes on textile. The institute is set out to ink a license agreement with the prospect adopter of the UND technology for commercial manufacturing of natural dyes and dyed materials.
Natural dye is gaining wide recognition for its value-addition to textiles and handicrafts through its environment-friendly and visually appealing properties. With this, DOST-PTRI HIRANG interns Ms. Evangeline Manalang and Mr. Angelito Uldo have successfully engaged with Natural Craft Connection Enterprise (NCCE) as the UND adopter. The company is a Filipino-owned business in the line of crafting decors such as Abaca rugs and carpets.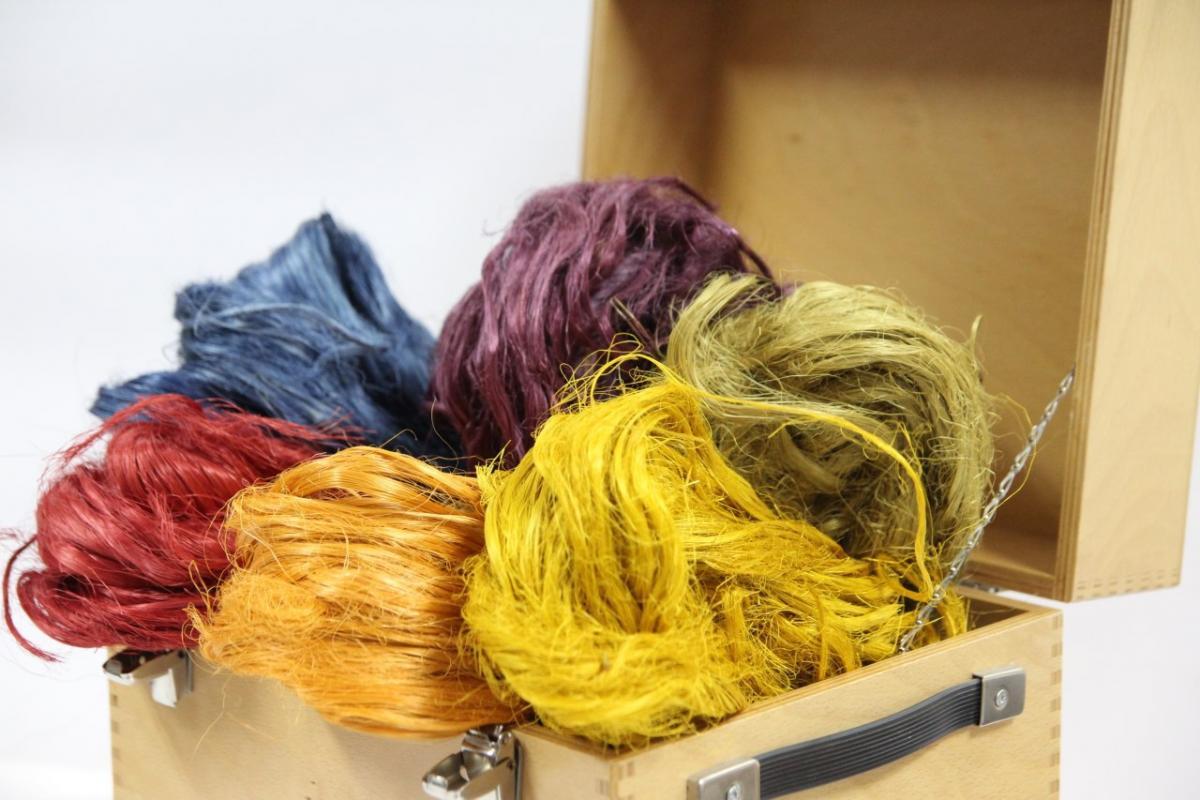 Part of UND technologies is a "semi-mechanized upscale mordanting and dyeing machine" that can apply natural dye to fibers such as abaca and pineapple. (Photo by DOST-PTRI)
Ms. Manalang believes that the commercialization of the UND technologies paves the way to expand the availability of natural dyes and dyed textile. This in turn can facilitate local producers to deliver globally-competitive naturally-dyed products. "[UND technologies] enable handloom weavers, textile manufacturers, and artisans to exploit the benefits of using natural dyes or put more value on their products," Ms. Manalang explained. "Naturally-dyed products can command a higher price and can penetrate the global market because of its value proposition."
UND was a product of DOST-PTRI projects titled "Upscaling and Expanding the Production and Application of Philippine Natural Dyes" and "Commercial Scale Verification of Natural Dyes for Textiles," which were completed in December 2015 and December 2019, respectively. The technology comprises the method and equipment to extract, mordant, and apply natural dyes and pigments extracted from raw materials available locally. Some of the dyes' natural sources include Sibukao heartwood, Mahogany barks, Annatto seeds, and Talisay leaves.
The pigment and dyes are extracted using an Upscale Extraction Machine, a vat that can process a higher volume of dye from raw materials than its regular backyard-type counterpart. The upscale machine can process up to 35 kilograms of dye materials per batch within two hours. On the other hand, the traditional vessel will only be able to handle five kilograms per batch with a processing time of four to five hours.
Following the UND extraction is the mordanting and dyeing process, which are also completed using a semi-mechanized dyeing machine. The equipment can accommodate 25 kilograms of yarns, fabrics, or fibers, five times more than a conventional machine's capacity.
Since the natural dye and colorants R&D program is one of DOST-PTRI's flagship programs, the Institute has established a "NatDyes Center." The facility leads the study and tests in DOST-PTRI for the sources, properties, and application of natural dyes in the country. Moreover, NatDyes has also set a trademark for its brand that features the colors produced from natural dyes.
The use of the NatDyes trademark is one of the terms that the DOST-PTRI HIRANG team is negotiating with NCCE. Currently, the PTRI interns are under negotiation with the private company to license the UND technologies and remains with high hopes that Philippine natural dyes will be readily available to the local market.
PTRI is one of the seven DOST research and development institutes (RDIs) that participated in the HIRANG Internship Program, initiated by DOST-Technology and Application Promotion Institute (TAPI). As HIRANG nears its closing, TAPI is closely collaborating with the RDIs to facilitate their completion of the program deliverables (i.e. valuation report and signed licensing agreement).
Invention Development Division Chief Atty. Marion Decena emphasizes TAPI's commitment in assisting the RDIs not only so they can achieve a successful technology transfer, but also to ensure that DOST-developed technologies will be delivered for the utilization of the intended users. "Through HIRANG, we want to support the RDIs in crafting and sealing a mutually-beneficial agreement with their prospect licensees, so the adopters will also reap the additional value that our local technologies can bring to their products and businesses," Atty Decena stated.
DOST-TAPI
MIKAELA KATE MAMAUAG