With the goal of accelerating the market entry of promising Filipino inventions, the Department of Science and Technology - Technology Application and Promotion Institute (DOST-TAPI) continues to accept commercialization proposals for the Innovation and Technology (i-TECH) Lending Program for 2022.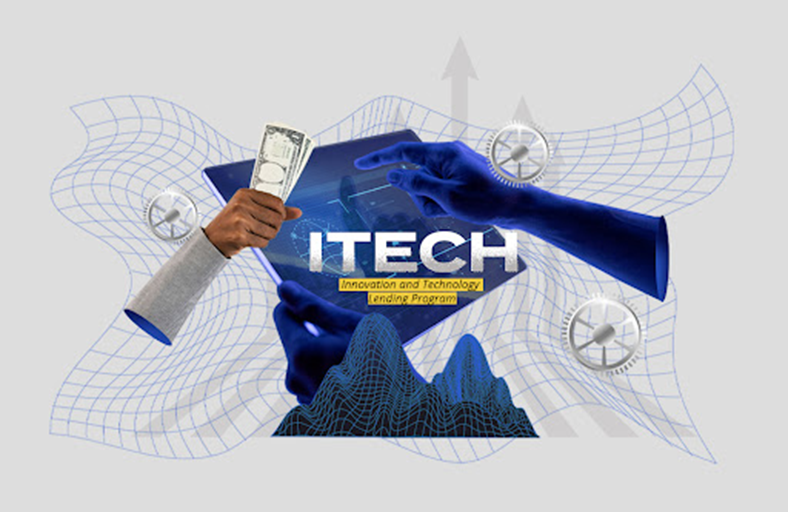 DOST-TAPI's i-TECH Lending Program in partnership with the LBP funds the commercialization of Filipino inventions
The i-TECH Lending Program is a commercialization program implemented in partnership with the Land Bank of the Philippines (LBP) to provide a special lending window with low-interest financing. The program aims to assist Filipino inventors in financing the commercialization of their patented inventions, particularly in the acquisition of capital and labor for scaled-up production.
One Inventrepinoy that has received financial assistance from the program is Mr. Francisco "Popoy" O. Pagayon who runs the Oral Educational Distributor (OED), a single proprietorship. Through the i-TECH Lending Program, Mr. Pagayon has secured a multi-million loan amounting to P2,070,000 which shall fund the mass production of his invention, the Portasol, a multi-purpose thermal speed drying tray for fish products and dried grains.
Read more: Filipino inventor-entrepreneur receives multi-million commercialization funding under Landbank i-TECH Lending Program 
Another Filipino invention that got financing from the i-TECH Lending Program is the MYKL Kiti-kitiX-Killing Agent, a mosquito larvicide comprised of calcium hydroxide and clinoptilolite for dengue prevention, invented by Mr. Lyle Christian R. Herbosa, President of MYKL Trading, Inc.
Read more: DOST's 3 inventions receive Land Bank's financial support
Mr. Generoso David, Assistant Vice President of the Programs Management Department II, encourages Filipino inventors to avail loan assistance through the i-TECH Lending Program.
From inventions that could be used to address energy problems to innovations for agricultural and industrial productivity, the i-TECH Lending Program covers business activities for patented inventions that are beneficial to the country's primary industries. The program also provides funding for DOST priority sectors such as food processing, metals and engineering, furniture, and pharmaceuticals and health products, among others.
Filipino inventors and duly authorized enterprises with active intellectual property rights can avail up to a maximum of P10.625 million financing, consisting of the TAPI Invention Guaranteed Fund (IGF) loan amounting to P5 million (at 0% percent interest) and the LANDBANK loan amounting to P5.625 million (at 5% interest rate per annum, subject to annual review).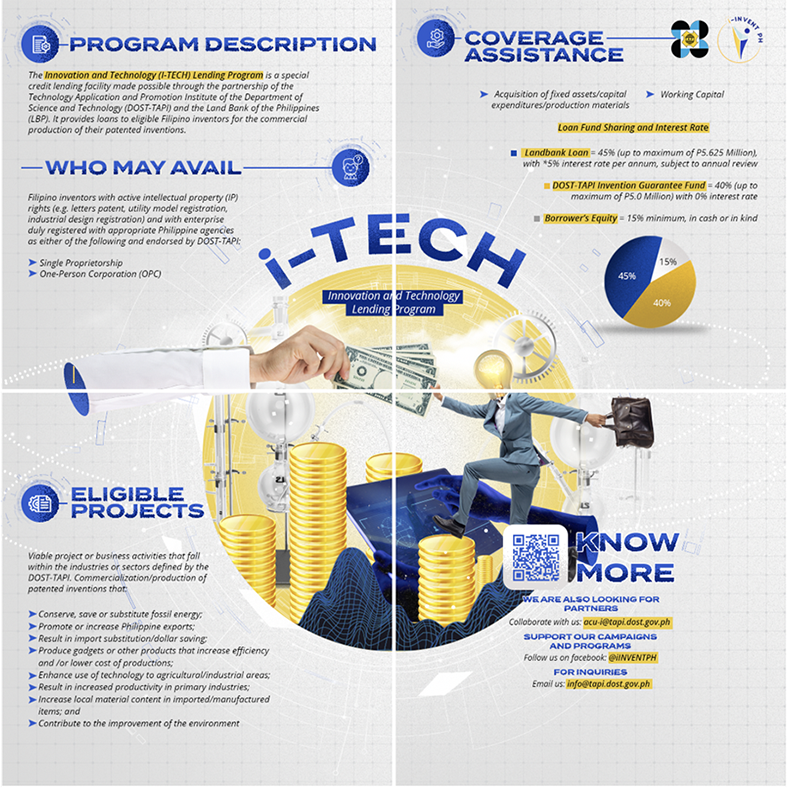 Through the i-TECH Lending Program, patented inventions under priority industries are eligible for loan assistance.