Campus papers are usually focused on events and stories happening on school premises, but this is not the case for the school publications that joined the inaugural Gawad Dalumat Citizen Journalism Contest, especially its grand winner―The Estoile.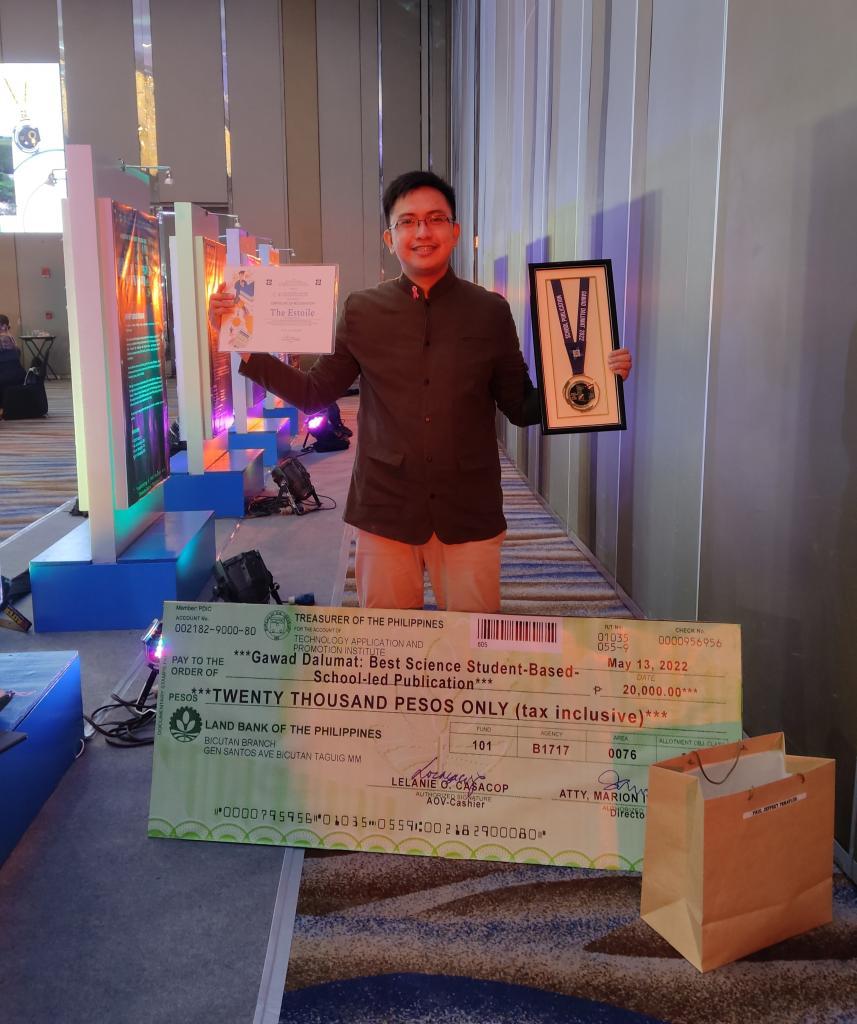 Mr. Paul Jeffrey Peñaflor, the Estoile's School Paper Adviser from St. Edward School received the inaugural Gawad Dalumat Award
"I think Filipinos need science, and campus journalism will be a partner in this advocacy to bring science to the people," said Mr. Paul Jeffrey Peñaflor, the publication adviser of The Estoile. As the grand winner of Gawad Dalumat, the publication proved that campus papers also deliver popularized science stories that could benefit the community.
Evolving quality of science stories
The Estoile is the official campus paper of St. Edward School located in Lancaster City, Imus, Cavite. When it was first published in 2013, its science stories were only events-based. Now, the paper has evolved and ventured into science features that are relevant to the needs of the people.
"Dahil sa pagsali namin sa mga press competitions, mas natutunan namin na [magsulat] pa ng mga science stories na talagang nag fi-feature ng why and how kasi nandun 'yung benefit sa mga tao, matututunan nila kung bakit nangyayari itong phenomenon na ito or how to do a particular investigatory project," Mr. Peñaflor expressed.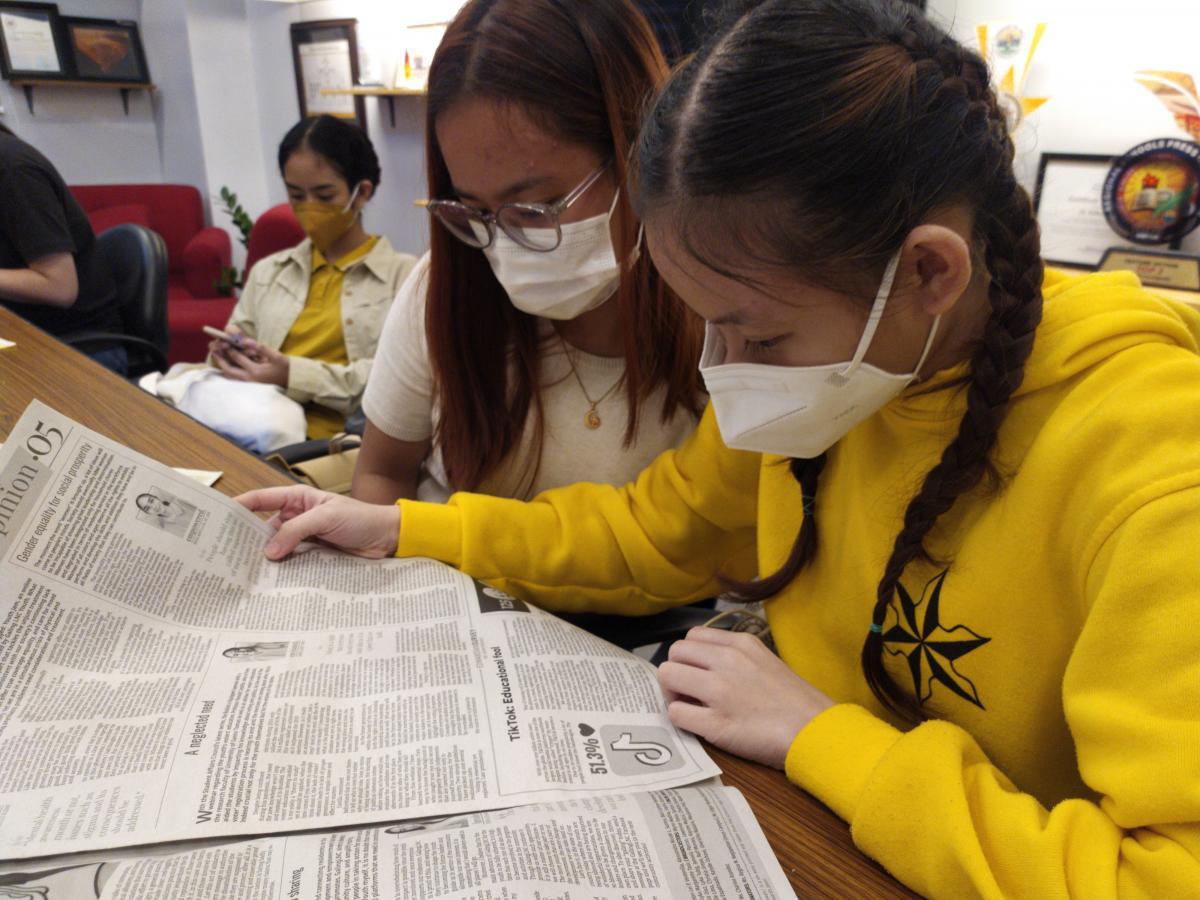 Students of St. Edward School working on The Estoile
Joining Gawad Dalumat
Gawad Dalumat is a citizen journalism contest for school and/or student-based publications. It is organized by the Technology Application and Promotion Institute of the Department of Science and Technology (DOST-TAPI). The contest aims to give recognition to school newspapers or magazines which banner quality, professional, and relevant science, technology, and innovation stories in their localities.
Entering the contest motivated The Estoile's editorial board to evaluate if their science stories fit the criteria that the journalism tilt is seeking―quality, cohesiveness, structure, branding, and ethics. Winning the contest on the other hand brought them back to the core reasons why they wanted to promote science stories further, that is to help combat misinformation. Another reason is to encourage more Filipinos to read and appreciate science stories. Mr. Peñaflor expressed that we are living in a society that generally lacks interest in science and looks at social media for information.
"When we were struck by COVID-19 and typhoons in 2020, the use of social media increased and that resulted to more Filipinos being misinformed. At iyan na lumabas na yung vaccine misinformation," lamented Mr. Peñaflor. "Given these problems, [it] is high time for us to begin educating students to understand and appreciate science and technology stories," Mr. Peñaflor added.
Gawad Dalumat and campus papers helping each other in communicating science
Stories published in school publications reach a limited number of audiences―the school and/or the local community. Through Gawad Dalumat, science stories are amplified as they are promoted across multiple media platforms, including in KALIPUNAN (Kaalaman sa Agham at Lipunan), DOST-TAPI's social media newscast about science, technology and innovations.
"I hope you continue these initiatives because they give louder voice to science pages", Mr. Peñaflor stated.
According to Mr. Peñaflor, after The Estoile won the Gawad Dalumat, other schools in their district became motivated to advocate science communication by pushing for the setting up of their own science papers and/or improving the content of their science pages. More importantly for Mr. Peñaflor, Gawad Dalumat opened new avenues for The Estoile to explore— stories about their local inventors, inventions, and innovations.
The Estoile in fulfilling their role in popularizing science and serving the community
To ensure their campus publication effectively communicates science to its readers, Mr. Peñaflor reminds his students to improve their science writing and use vocabulary that even first graders would understand. This is to help break the stigma that science stories are meant and reserved only for scientists and intelligent people.
To better understand the dynamics of science and be able to write sound technology features, Mr. Peñaflor believes that campus papers should collaborate with the school's science unit. He also advocates inclusion of stories happening beyond the campus and are significant to community development.                                                                                        
A concrete example where The Estoile played a role in increasing civic engagement was when they featured their community's Material Recovery Facility (MRF). This increased awareness about the facility and helped promote its use among the residents.
"It's all about advocacy being written and being promoted on whatever platforms you have, whether it be in print or online," conveyed Mr. Peñaflor.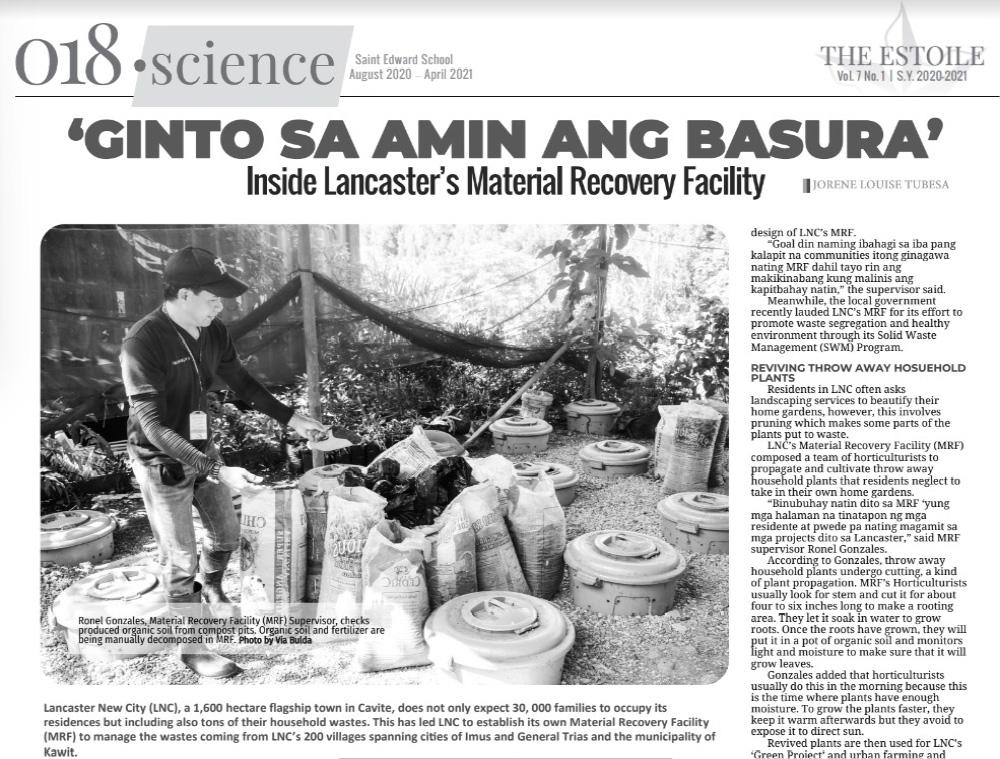 A clip of The Estoile's science story about their community's Material Recovery Facility
While The Estoile is originally intended for print, the editorial board acknowledges the opportunities present in digital platforms. In the midst of the pandemic, they started populating and promoting their online presence by creating their own Facebook page and making their publications available for online consumption.
"Ngayon parang mas na-discover namin 'yung power ng social media…" Mr. Peñaflor stated. He added that since people are visual learners, they plan to engage more audience with science-related content with this strategy.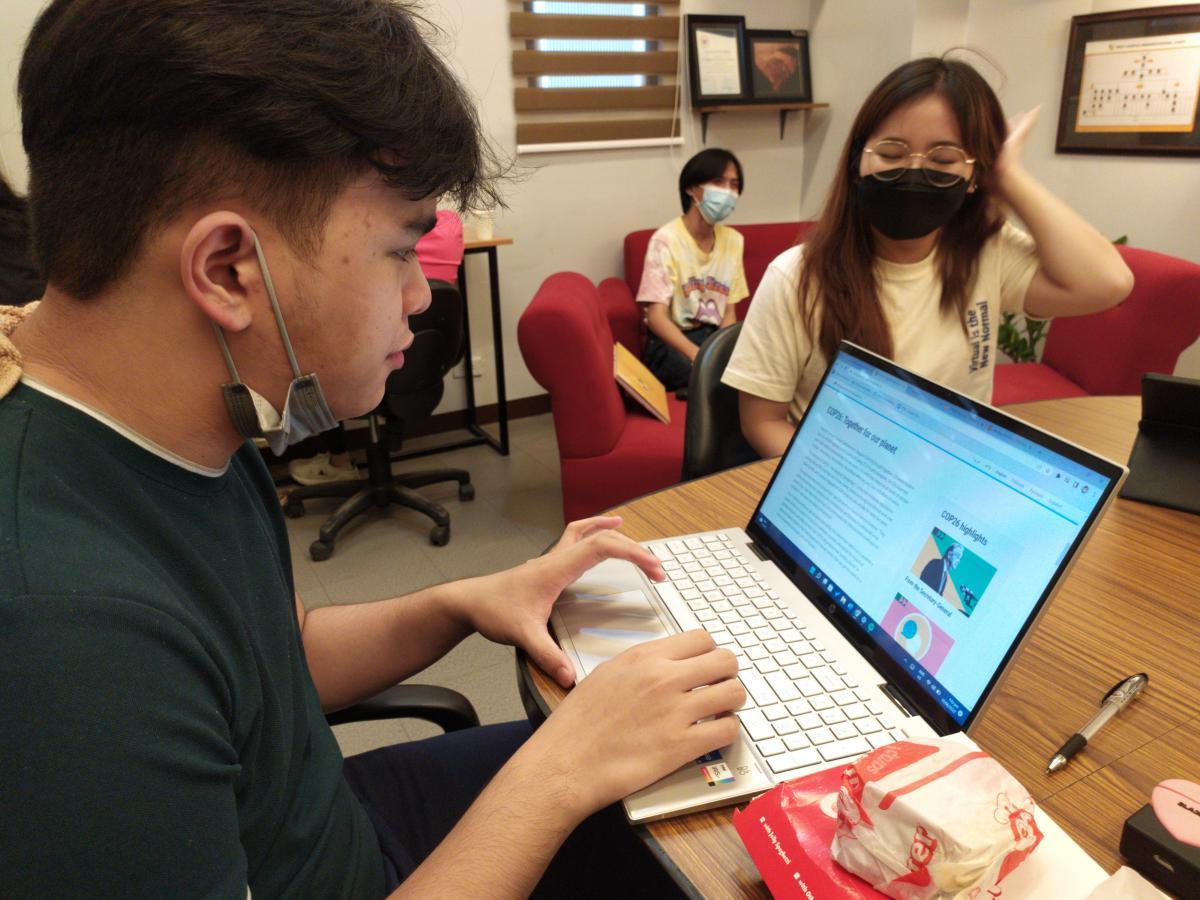 A staff of The Estoile researching about climate change
Message to citizen science journalists
An effective science story is the result of good science writing that has concern for the community's welfare. With this in mind, Mr. Peñaflor's has this advice for aspiring and current citizen science journalists:
"…Matuto pa, mag-aral pa, magbasa pa nang marami. Immerse yourself with your community. Remember, nagsusulat tayo for the community because science should be for the people."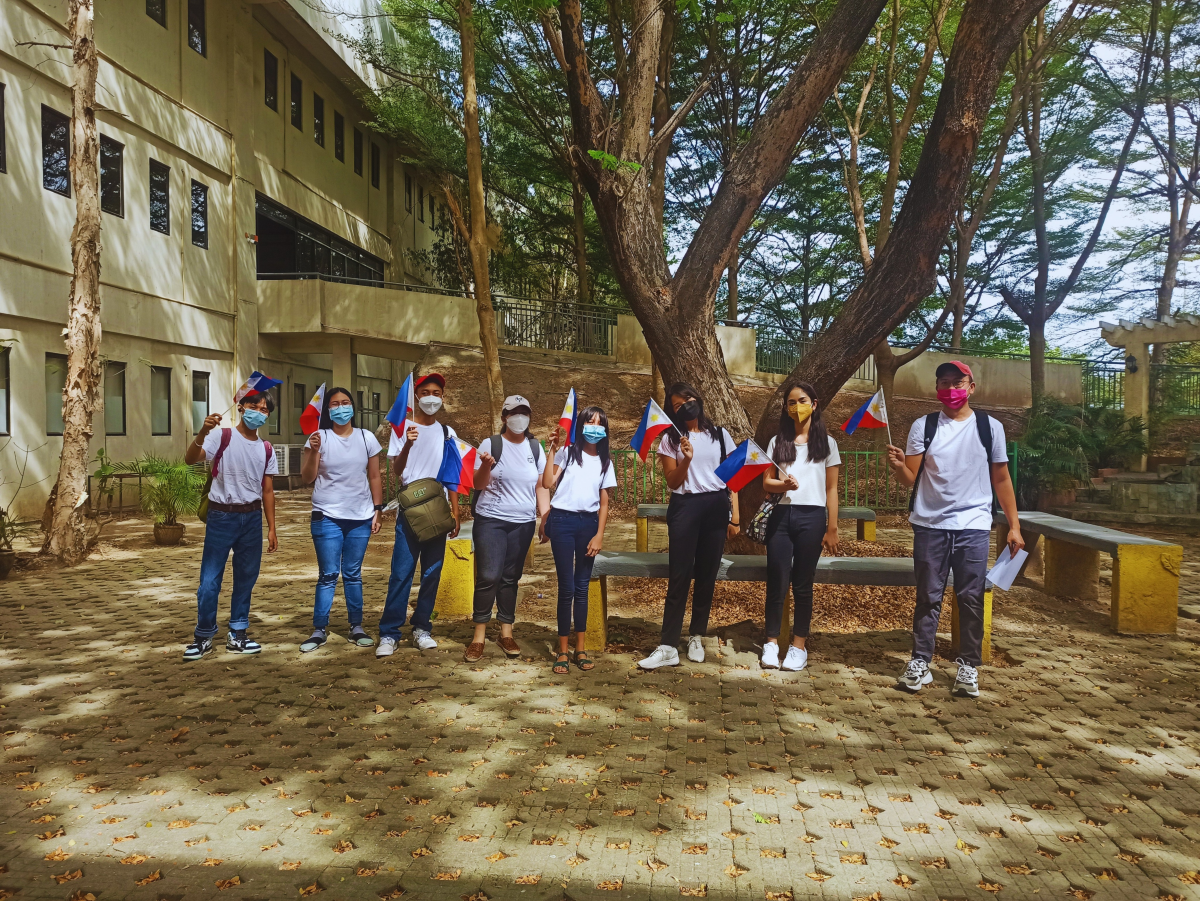 The Estoile Staff posing for a group photo
Ms. Jana Maureen Jimenez', DOST-TAPI's Gawad Alunig x Dalumat's project head, hopes that through their agency's journalism campaign, more people will promote local inventions to help Filipino inventors link with the appropriate government programs.
"Kung may alam kayong Pinoy inventions and innovations sa inyong lugar, sana mas bigyan pa natin ng puwang. By featuring them, your publication not only gives Filipino innovators due recognition but also help them connect to agencies, such as DOST-TAPI, that could potentially assist them." she added.
For updates on The Estoile, check out their Facebook page, SESPublications. To read their publications, visit their website at  sites.google.com/ses.edu.ph/sespublications or check their Issuu page issuu.com/sespublications/docs.
Gillian M. Sagario
Intern, ACU-I
DOST-TAPI S&T Media Service