Roy Nacua first encountered DOST-TAPI by joining the Regional Invention Contest and Exhibits in Cebu. Upon learning of the different invention programs by the agency, he applied for an Intellectual Property (IP) rights assistance to secure his IP assets. He then received a concept prototyping grant for his waste-based construction blocks and another grant for laboratory testing and analyses. Afterwards, he field and market tested his innovation through the Invention-based Enterprise Development (IBED) Program.
An important question for curious inventor Roy Nacua has always been: how can this be done or executed better? His foundation for curiosity can be traced back to her mother's hometown in Carcar, Cebu.
"My mother was a public school teacher in our hometown," he said. "At home, we at an early age were exposed to books… [and] science was one of my favorite subjects."
His enthusiasm for science led him to admire great minds and inventors such as Albert Einstein and appreciate his science teachers.
"They give you inspiration as a kid. Unconsciously, you develop an interest in the things around you. And you'd wonder if a Filipino could do something better in a local environment. You'd ask if there could be a better way to do it? It's how I [came to] view things."
These questions would stay within him.
After he completed his elementary and high school education, Roy studied industrial engineering at Colegio de San Jose-Recoletos. Even though his course concentrated more on the management side of things, his passion for innovation never left him.
"Deep in me in those days, I already had that passion to innovate, how to do things better. We had one subject called methods engineering. In methods engineering, [we] focused on finding ways in a more economical, less expensive way. So that's how things [developed]..."
Upon earning his degree, his transition into the workforce was swift and productive. At a Cebu-based furniture manufacturer, he had fruitful stints as production supervisor and plant manager until he became head of research and development. It was while manning this important position that he deployed his innovation to years-long success.
Roy was able to identify a problem: the material they have been sourcing abroad was expensive, so he took it on himself to find a local, more affordable raw material for their products. He then discovered that pakol—a fish that to many Cebuanos is a delicacy—has usable skin that is routinely disposed at marketplaces. He researched more about pakol skin, which led to its use in their production. His curiosity—how can this be better—led to their increased product orders and sales in the mid-1990s.
He left his company after 13 successful years. Never one to rest on his laurels, he kept himself busy.
In 2017, at the encouragement of his friends, Roy entered Department of Science and Technology - Technology Application and Promotion Institute's (DOST-TAPI) Regional Invention Contest and Exhibits (RICE) for the first time. The results surprised him: his construction block made from waste (EPS) won the Likha Award for Creative Research. His victory led to a prototyping grant from DOST-TAPI to further develop his invention towards its commercial and industry-grade version.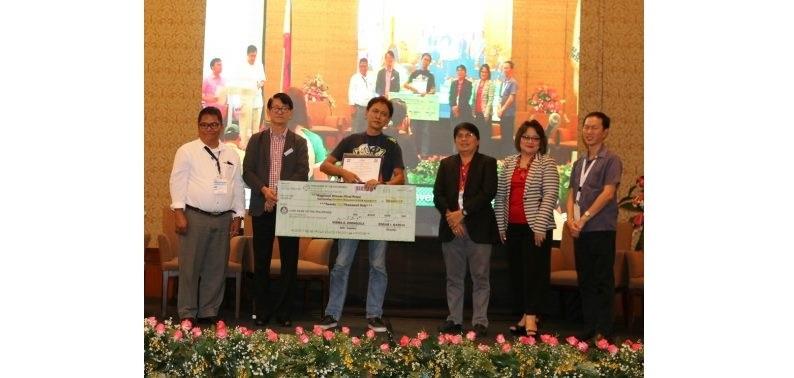 Inventor Nacua during the awarding ceremony of the 2017 RICE where he won the LIKHA Award for Creative Research. (Image source: DOST Region 7 website)
He acted on the prodding of the local government who wanted work done on responsible waste disposal in their community.
"Prior to the invention, I already had an idea and had spoken to the city government about waste disposal. They had about .01 percent of the total garbage collected from the city, and that's a lot. They encouraged me to do something about it. So in a way at the time, one of my inspirations was the City Department of Public Sanitation."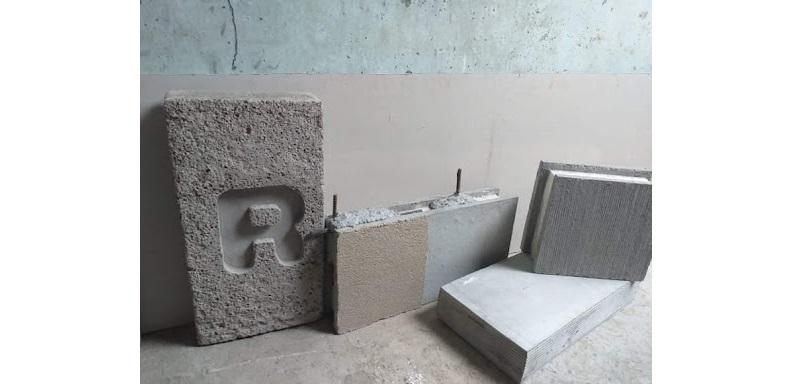 The construction block/panel from waste (EPS) is inventor Roy Nacua's contribution to solving the waste disposal problem in his city. (Image source: Inv. Roy Nacua)
Even before joining DOST-TAPI's RICE, Roy has already been tinkering with projects he simply chose not to document. These projects, he said, were just for fun, which he believes to be essential for other inventors.
Five years after his victory in DOST-TAPI's RICE, inventor Roy Nacua continues to innovate and incorporates improvement to his invention. (Image source: Inv. Roy Nacua)
Reflecting on his journey—which continues as he refines his project in Talamban, Cebu, integrating insulation properties, and looking into mechanizing production—Roy made an important observation.
"If you have an innovative mind, an interest in things around you, ideas will just come up, some will go. It's up to you to choose which ones to seriously pursue."
Fidel Feria
DOST-TAPI S&T Media Service