Dr. Richmond Santillana invented Nutracapser, a portable home device that can be used to create herbal supplements. For his invention, Dr. Santillana became a beneficiary of the i-TECH Lending Program, which provides financing through the credit-lending partnership between DOST-TAPI and  the Land Bank of the Philippines.
Dr. Richmond Santillana never thought he would end up practicing alternative medicine. He graduated with a pre-med degree and his first job out of college was at a Japanese multinational pharmaceutical company. There, he started as product research assistant and then worked his way up to senior product specialist.
After he learned everything there is to know in the industry, he started his own pharmaceutical business.
He was a successful pharmaceutical person. Within a few years of running his own company, his business expanded into four branches. But running a growing pharmaceutical business was not easy.
"Apat na business, so kung kailangan, hindi talaga ako matutulog," he shared.
His late stressful nights eventually took a toll on him, and one day he started feeling sluggish. Speaking became a daunting task and walking more so. He knew then there was something seriously wrong with his body, so he went to a doctor and found out he had heart disease.
Since Dr. Santillana owned a pharmaceutical company, there was no medicine out of reach for him. Cost was not an issue as well, so he tried everything his doctor prescribed him. After more than a year of trying different medicines, not only did he not get well, side effects from the drugs plagued him, too.
Dizziness, headaches, body pains, and tiredness—he felt them all. He believed in his company and its products, but still, his heart was not getting better. He prayed to God to cure his heart and, in return, he would do everything he can to give back. Whichever direction God directs him, he would take it.
"I called it my covenant. I said to God, pagalingin mo ako, and then make use of me kung saan mo ako dalhin."
Feeling desperate, he decided to take a step back and look at other options. Even though being a pharmaceutical man was a big part of him, he was not afraid to explore other options.
"Sa madaling salita, dahil doon na ako sa point na wala nang quality of life, napilitan akong subukan ang alternative medicine."
Dr. Santillana was grateful for alternative medicine's positive effects on his body. Even though he had a family to feed and kids to send to school, he didn't back away from his deal with God. Seeing how his treatment made him feel better, he decided to shift the direction of his career completely. He decided to practice alternative medicine himself.
"Out of gratitude, kahit milyon ang kinikita ko, tinalikuran ko lahat 'yun," he said. "Noong gumaling ako, nag-decide akong isara 'yung pharmaceutical company… Then I decided to study alternative medicine."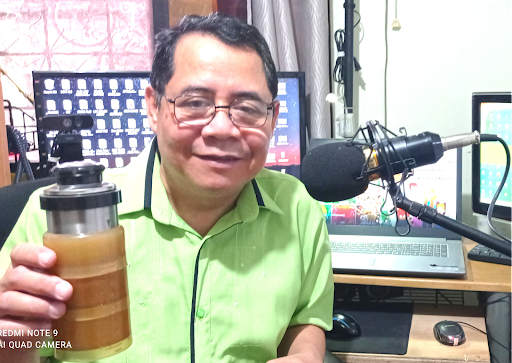 Dr. Richmond Santillana's life experiences brought him to alternative medicine. Having experienced first-hand its benefits, he now strongly advocates this field of science through his invention, Nutracapser. (Image source: Inv. Richmond Santillana) 
He asked God to make him the best and not just like somebody else. The direction he took in life is uniquely his. Seeing as he has a background in pharmaceuticals, he does not discredit the industry and its medicine. However, he has found his new calling in alternative medicine.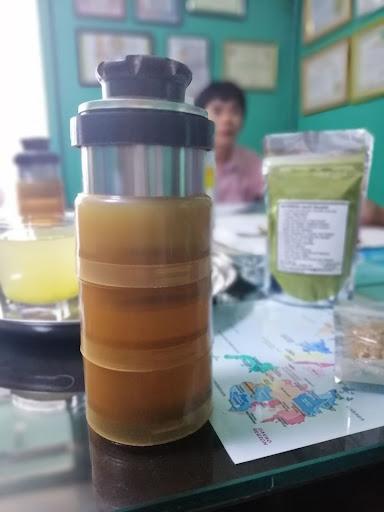 The Nutracapser received funding under DOST-TAPI's ITECH Lending Program, a special credit-lending facility for Filipino inventors.
After practicing and educating people in alternative medicine for years, Dr. Santillana was struck with an idea on how to better apply it in people's lives. Since herbal supplements can be expensive, he thought of an invention that will help anyone to make their own herbal supplement.
He had an idea but he did not have a background in inventing, but this did not stop him. He turned to YouTube to learn how to invent on his own. Mechanical hydraulics, pneumatics, electronics—he learned all of these through online videos. He frequented junk shops in his area to scour for materials he can use. This is why his neighbors call him the "doktor na namamasura."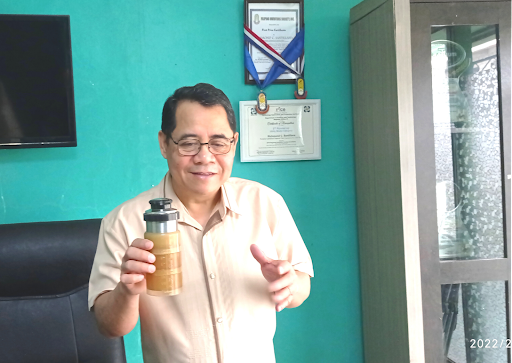 Inv. Santillana showcases his invention in the field of alternative medicine. (Image source: Inv. Richmond Santillana) 
After working on his invention on and off for three years, he was finally able to complete his Nutracapser. His invention is portable and can create up to 500 herbal capsules in an hour.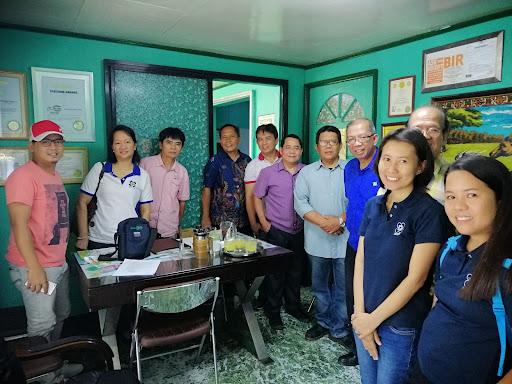 Representatives from DOST-TAPI and the Steering Committee under RA 7459 visited Inv. Santillana to conduct evaluation and validation of his funding request. 
Since Nutracapser is marketable, the invention was granted assistance under the Innovation and Technology (i-TECH) Lending Program that is implemented through the partnership of the Department of Science and Technology - Technology Application and Promotion Institute (DOST-TAPI) and the Land Bank of the Philippines. The Program is a special credit lending facility that provides multi-million assistance for the commercialization of local inventions with active patents. The support of the two government agencies has given the needed endorsement and boost for Dr. Santillana to expand the market reach of his products.
Dr. Santillana was a pharmaceutical man, but a turning point in his life led him to practice alternative medicine instead and create an award-winning invention that helps anyone to make their own herbal supplements.
Camille Gonzales
DOST-TAPI S&T Media Service