TAGUIG CITY - To encourage positivity and spread hope to our frontliners, Invent Kids expressed their creativity in showing appreciation and support to all dedicated frontliners, so-called "new heroes", who continuously serve to fight coronavirus disease (COVID-19). 
Through the TAPI IDD page, Thank You Cards of the Invent Kids were dedicated for doctors, nurses, policemen, market personnel, bank employees, delivery men, farmers, volunteers and other frontliners who unselfishly exercise & perform their mission by serving the greater many, are posted online every day. During these trying times, the use of various online platforms has become more beneficial especially for charitable drives, information dissemination about prevention and safety measures.
"The initiative is dedicated to all our courageous workers tasked to save lives during this pandemic by raising awareness among students to provide support, and cheers through their own creative craft. This initiative serves as an inspiration for them to live up to the spirit of "Bayanihan to Heal as One Act," said Ms. Richelle Malaay, Invent School Program (ISP) Manager. 
Majority of the created cards for the medical frontliners reflect words of gratitude, prayers, and hope. 
"When we started this initiative last March, many have reacted positively and seemed excited to be involved. Kids and teachers always have this vibrant spirit to join such activity," shared Miss Anna Bayubay Saet, the former ISP manager. 
Ms. Yang Magdaong, a teacher from The Learning Place (TLP) where majority of the cards came from said, "This helped the kids to be aware and knowledgeable about the the things they should and should not do during the pandemic. It also taught them the value of compassion."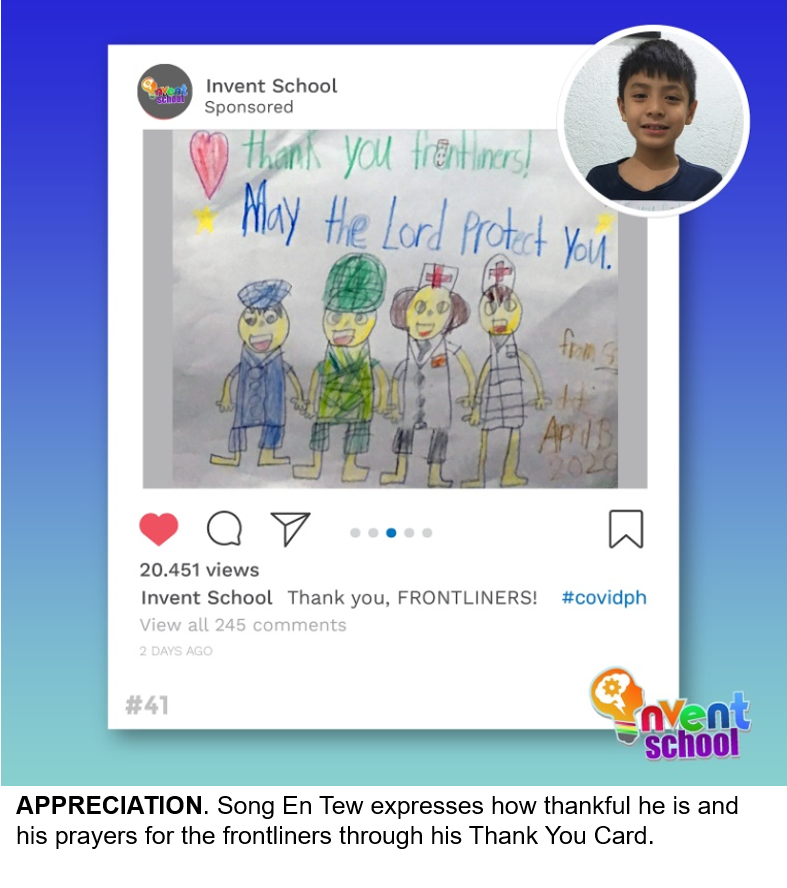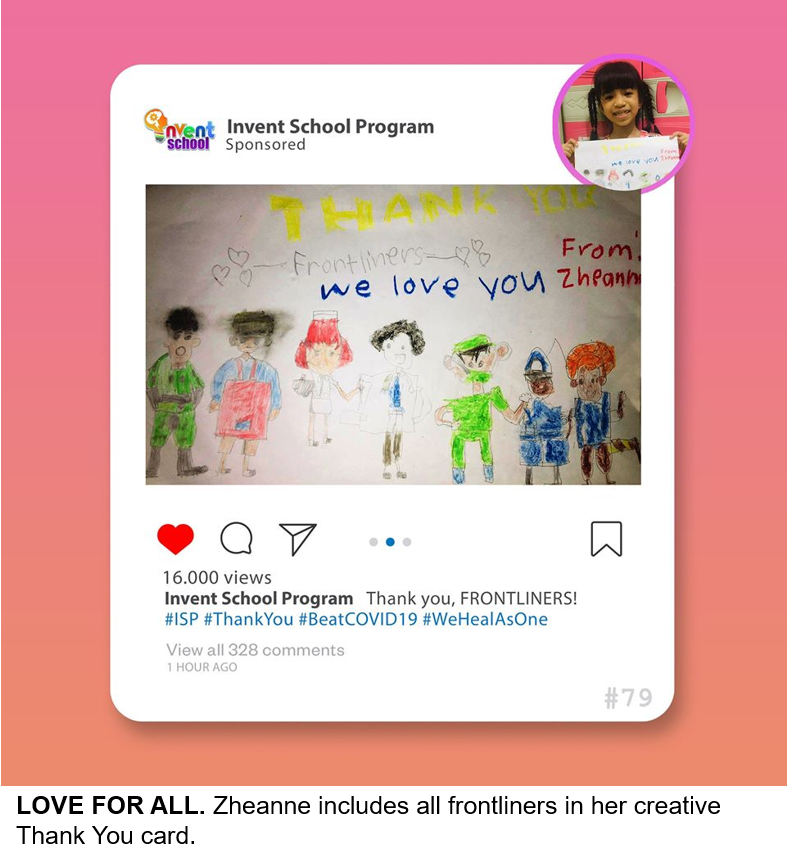 While other children focused and appreciated backliners who tirelessly work every day to protect and sustain the food chain, including distribution of foods. The backliners, including farmers and fishermen, garbage collectors, PPE suppliers and makers, funeral industry workers, as well as volunteers, strongly lend support to the frontliners in every way they can.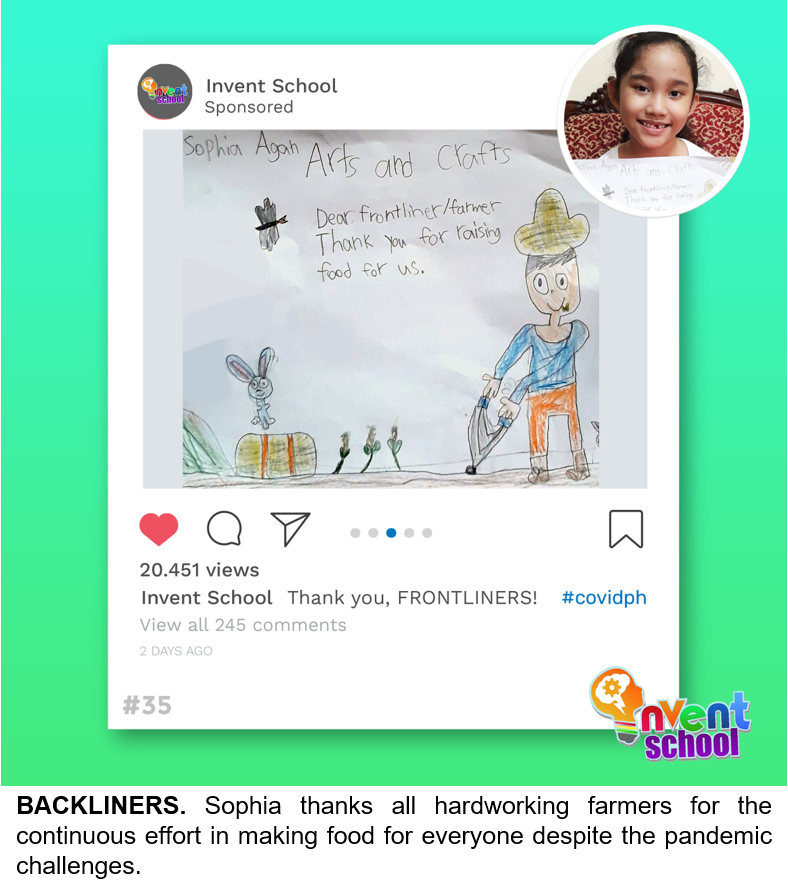 This activity also encouraged children to work and bond with their siblings in creating their own cards.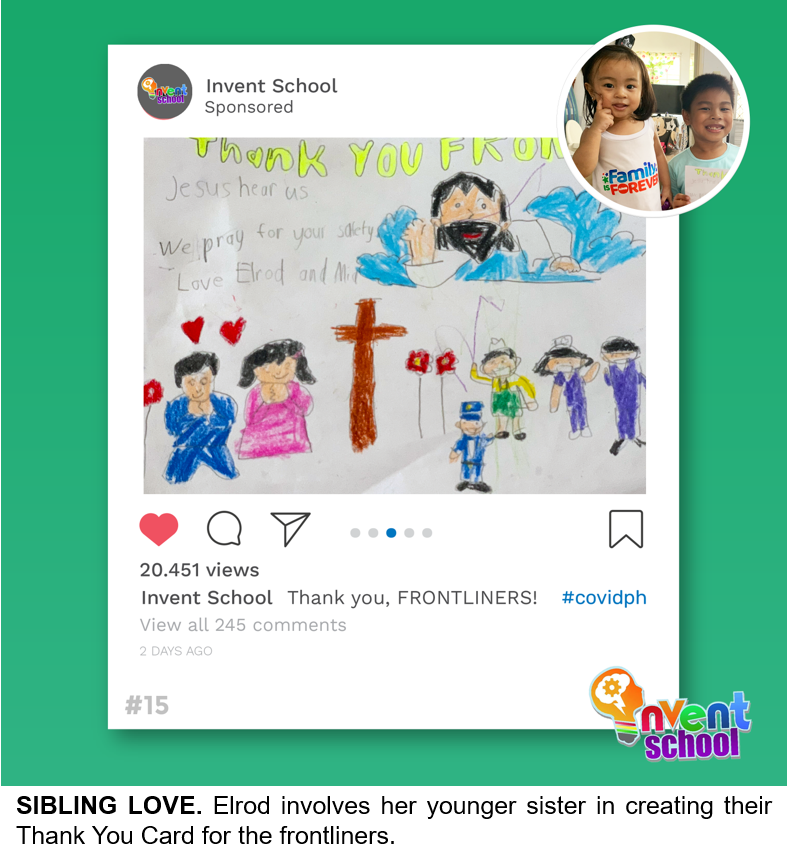 "I felt happy while creating the card, because even in simple ways, it can bring a smile to someone's face. I was smiling because I always think about what the reaction of the receiver will be," said the Invent Kid Michael Saluta. "Other than thank them, I would like to tell them to always stay safe, take care of themselves and that they inspire a lot of people with their bravery," he added. 
According to some of the parents, it was not difficult encouraging their children to make a card for the frontliners since they also see the news on TV and social media. "We just expounded on how our frontliners sacrifice their own lives to save the lives of others. For Viktor, they deserve at least a thank you card," shared Eric Paul Peralta, a parent. 
"I believe Kerty's artwork gave the frontliners the strength and inspiration as they face this pandemic. She maybe so young in terms of her age and unaware in our current situation but we really appreciate her simple efforts through her artwork," said Kyle Mesiona, also a parent.
TAPI IDD thanks everyone who participated in this expression-of-gratitude initiative for the frontliners.  In return, the office continues to provide services and assistance to COVID19-related inventions and breakthroughs. 
TOGETHER, #WeHealAsOne! 
IDD S&T Media Service
DARLA MAE L. HASAN