"Powering Generation of Thinkers''
This has been the battle cry of the Invent School Program, an ideation program by the Department of Science and Technology - Technology Application and Promotion Institute (DOST-TAPI), which encourages students to learn and discover their potential as future scientists and inventors. In 2020, Invent School stayed true to its mission as it catered student learners using their newest platform - the online world.
Because of the pandemic, Invent School had to innovate beyond the traditional face-to-face workshops, which cannot be conducted due to varying community restrictions. As a result, the program explored webinars and tailored-fit its training using online platforms in order to deliver the same quality of service to its students.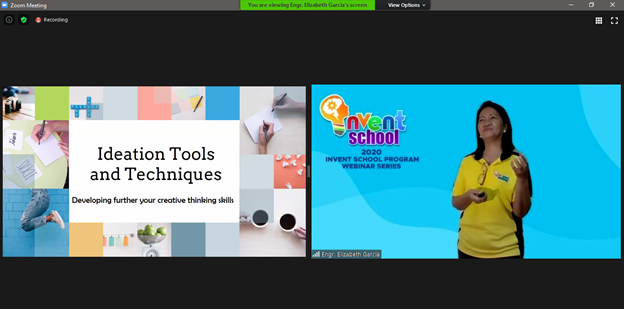 Engr. Elizabeth Garcia, Invent School Trainor, discusses Ideation Tools and Techniques to students from DOST Region IX in Zamboanga Sibugay during the digital Invent School last October 13, 2020.
The Invent School traveling gurus went to Sulu State College in November 2019 to conduct a series of seminar-workshops. This was one of their last training sessions before the lockdown due to the pandemic.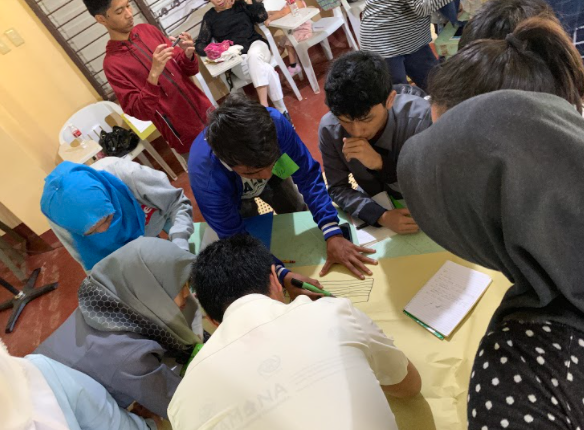 IN ACTION: Participants from Sulu State College gather for a brainstorming of their output as part of their activity in the ISP training. Taken last November of 2019.
"Last year, we expected fewer students to join since we were facing a pandemic and several gaps had to be addressed. But this didn't stop us. In totality, we were able to equip 492 highschool and college students from 68 schools in 7 different regions all over the country," shared Engr. Richelle Malaay, program manager of Invent School.
This 2021, Invent School will continue its digital shift while continuously improving its delivery and content. It also plans to  accommodate elementary pupils from Grades 4 to 6, once the dedicated modules for this age group have been finalized.
Like other DOST-TAPI's programs, Invent School had to adjust and innovate from within in order to cope up with the demands of pandemic without sacrificing the caliber of its services. At its core, Invent School stands with its vision to empower generations of aspiring young inventors with the knowledge needed to kick-start their journey in the field of science and technology.
For those interested in this free seminar-workshop,you may visit techtrans.gov.ph or tapi.dost.gov.ph for more information. Proposals may be directly submitted to info@tapi.dost.gov.ph. For social media updates, like and subscribe to the DOST-TAPI's official Facebook pages  @i-INVENTPH or @DOST.TAPI
Danica Faith Lagman
Science Research Specialist 1
DOST-TAPI S&T Media Service