Christopher Coballes invented Xentrinobot, an educational mobile robotics platform that can be used by students as a learning assistance tool. He was a beneficiary of DOST-TAPI's Industry-Based Invention Development (IBID) program, which provides assistance for fabrication of a commercial prototype of inventions, utility models, and industrial designs. He has an ongoing project under the Invention-Based Enterprise Development (IBED) program for the pilot production of his invention.
Christopher Coballes' first classroom was his makeshift laboratory and garage beside their home on top of a hill in Pilar, Sorsogon. His first learning materials and educational tools were broken radios and appliances washed out by typhoons. His first classmates were his childhood friends with whom he would share toys he made from scratch. His first assignments were broken gadgets his neighbors would bring to his house for him to fix. And his first teacher was no other than his curious self, who was always hungry for discoveries.
That little handyman, however, didn't choose to stay at his headquarters on top of the hill. He went down to where he could reach and serve more people with his talent and knowledge.
Endless thirst for knowledge
Before becoming known for his inventions and contributions in the field of robotics in the Philippines, Chris was already a popular little genius in his small community in Sorsogon. He passed the government exam for the then National Youth and Manpower Council in sixth grade.
But he was never that kind of genius that everyone expects and thinks of.
Throughout his school days, he never was the typical studious, book-smart, straight-A student. He described himself as an inquisitive street-smart who loved unconventional ways of learning and applying his knowledge. He enjoyed learning so much that he studied three degrees during his college years at Aquinas University of Legazpi, now University of Santo Tomas-Legazpi.
"I'm not confident that I have only one degree. I know that computer engineering is different from mechanical and electrical," he said.
He also took educational units in Bicol State College of Applied Sciences and Technology and, later on, a master's degree while working at the University of the Philippines Diliman (UPD).
Chris has always undeniably been in love with learning, but not the kind that is limited within the four walls of the classroom. He proves this through two of his most notable inventions, the Robook scanner and Xentrinobot, which are both innovative educational tools for the modern age.
The Robook scanner, now used in UPD Main Library, digitizes documents and books using an inexpensive but high-grade digital scanning machine. Xentrinobot is an educational mobile robotics platform that can be converted and assembled into various kinds of mobile robots, which can be used as students' learning assistance tools especially during new normal learning in this pandemic.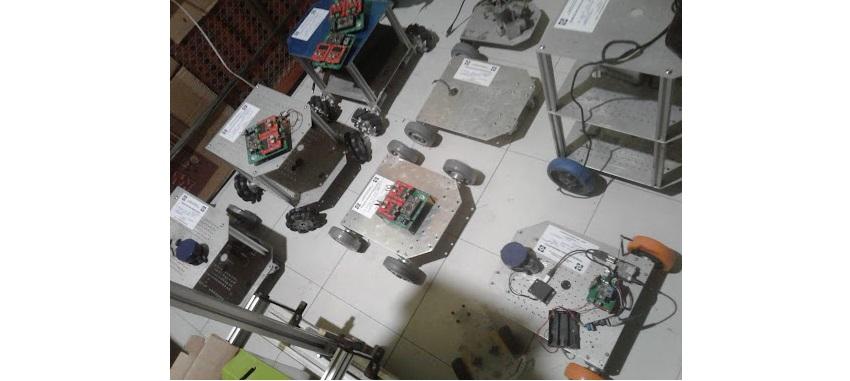 Inventor Christopher Coballes was able to produce different types of robots since he started applying his knowledge in robotics. (Image source: Inv. Christopher Coballes)
Teaching and addressing the needs of the time
Chris strongly believes that the educational system in the country should be revolutionized. He said that how we are poorly addressing the current education crisis is proof that traditional methods of teaching and learning should be abolished.
"I cannot tolerate this anymore. I need to prove something," he said. "Titles and accolades don't matter. This COVID-19 pandemic is the testament."  
Whenever there is a chance, Chris does not hesitate to share his knowledge. Whether it may be through learning sessions he facilitated as a TESDA consultant, classes he held in UP as an instructor, and lectures he delivered when invited to speak at universities, he seizes every opportunity to apply his own teaching methodology.
One of his most memorable teaching experiences was when he coached Antique National High School students who joined a national science competition for the first time. He was overjoyed when the students bagged an award because it also meant that his teaching methodology worked.
"I believe and I'm confident doon sa approach ko sa robotics," he said proudly.
End goal
Chris' seven-year-old son Xentrino was not only the inspiration behind Xentrinobot's name but also the biggest motivation behind its purpose. He believes that today's children should learn in a way that would help them survive the problems of their generation.
"I'm very inspired to finish this project because I am seeing my son as one of those who will benefit from this," he explained.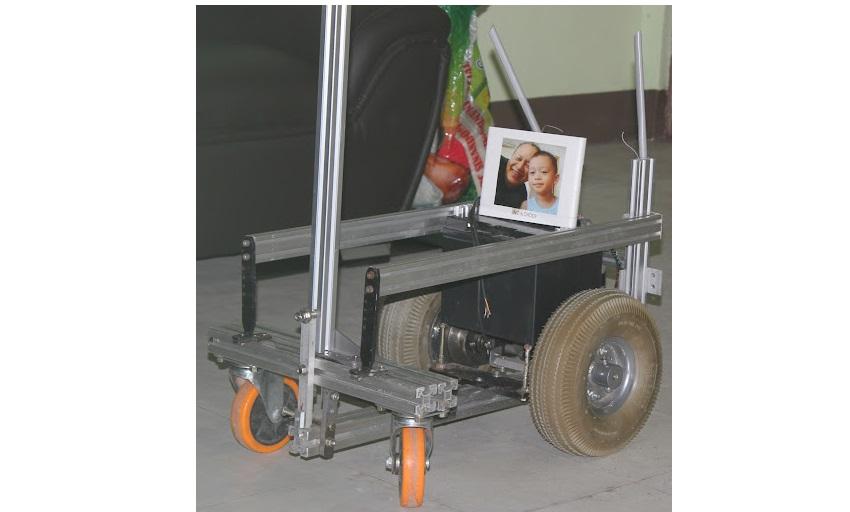 This robotic device developed by Inv. Coballes carries his picture together with son, Ino who is the inspiration behind the invention. (Image source: Hi-Techno Barrio Facebook Page)
He is very thankful for the Technology Application and Promotion Institute of the Department of Science and Technology (DOST-TAPI) in the development and marketing of his invention. He said he wants to refute others' misconception about government support towards local innovations.
"Sabi nila hindi raw sumusuporta ang government sa imbensyon. No, it's not true," he said. "Ako 'yung tagapagtanggol ng DOST. You just need to go through the process."
Just like how DOST-TAPI brings hope to inventors, Chris wants to educate future inventors and innovators by building his own research and development company. He dreams of creating more helpful educational tools and learning materials for children. He aims to rebuild his old laboratory up on the hill, bring it down to the people, and open it to those who are willing to learn from him.
"Wala naman tayong maibibigay sa kanila kundi 'yung invention na makakatulong sa kanila, to make the lives of other people better," he said.
Jemelle De Leon
DOST-TAPI S&T Media Service