As the grand winner of the inaugural Gawad Alunig citizen science journalism tilt, one might assume that it is not the first time for the 16-year-old Justine Atasha Asis to write and report science stories. But guess what? The contest was her first foray in science broadcasting. One can't help but wonder how her journey as a science journalist came to be and what realizations she had along the way?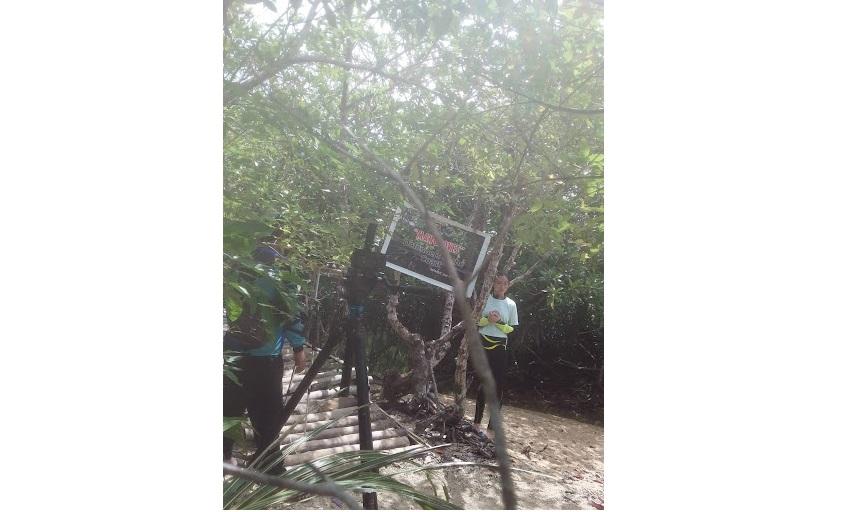 Behind-the-scenes shot of Justine Atasha Asis while reporting for her video entry. (Image source: Justine Atasha Asis)
Growing up in a world of science
With her mother as a graduate of medical technology and her father as a physician, Justine has been interested in science ever since she was a young kid having been exposed to numerous resources in this field and having supportive parents who practice their profession.
"Ini-idolize ko po sila parehas. 'Yung mom ko, nagre-rent siya ngayon ng pharmacy so umaasa po ako kumuha ng degree in pharmacy or biology. Ever since maliit ako, gusto kong tumutulong sa clinic ng father ko", said Justine.
["I have idolized both of my parents. Currently, my mom rents a pharmacy so I hope to pursue a degree in pharmacy or biology. Ever since I was a young kid, I have already enjoyed helping at my father's clinic."]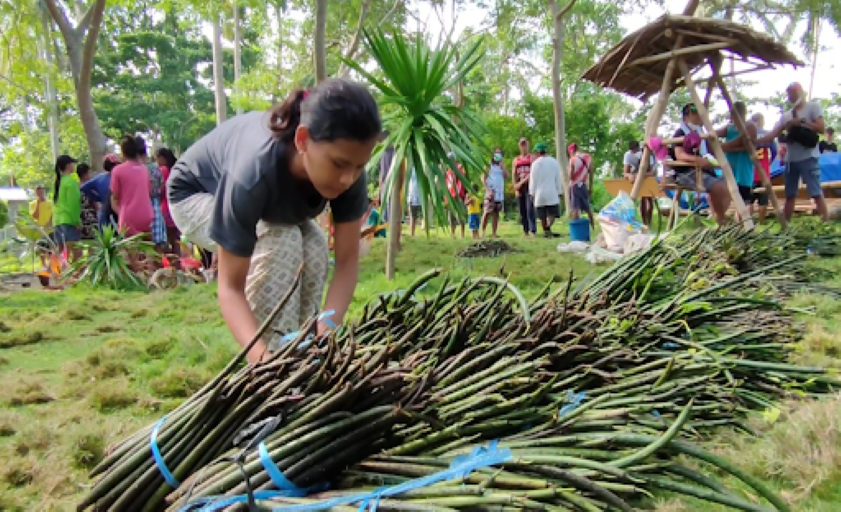 Community volunteers participating in mangrove rehabilitation. (Image source: "Sa Panahon ng Pandemya: Kalikasan ang Bida")
Since biology is one of the science topics that interests her the most, it was no surprise that her Gawad Alunig video entry focused on the conservation of marine life in their area.
The story, "Sa Panahon ng Pandemya: Kalikasan ang Bida" talks about how the community members of Jose Panganiban, Camarines Norte innovate in the management of their marine ecosystem through the propagation of mangrove trees, removal of invasive starfish species, and planting of artificial reefs. These environmental strategies and community-based approaches ensure the health of marine life in the coastal waters, which is the main source of livelihood in their locality.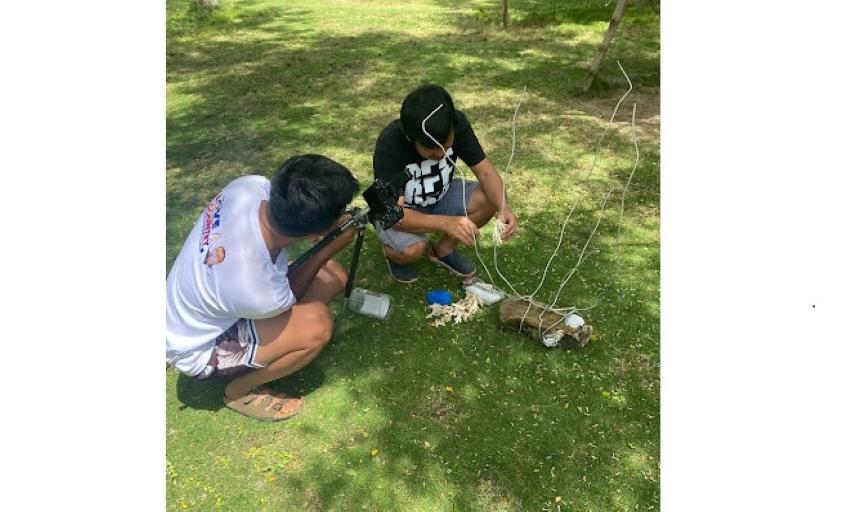 A community volunteer setting-up the artificial coral reef. (Image source: Justine Atasha Asis)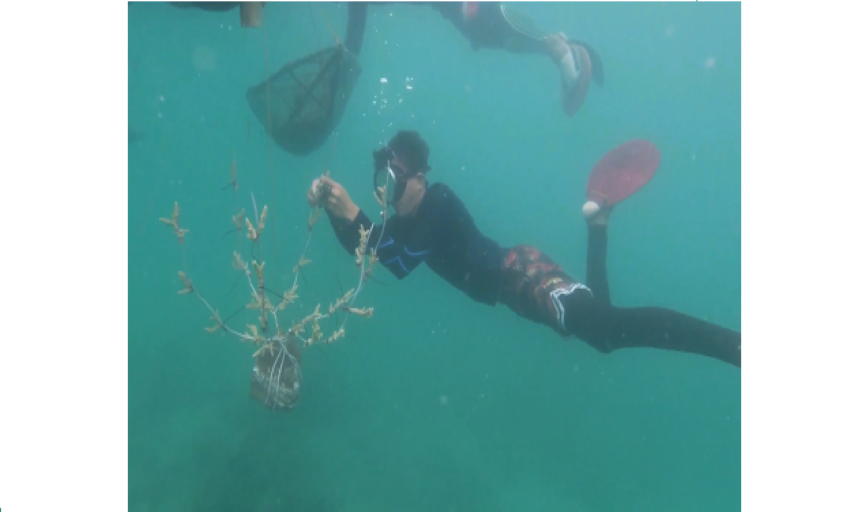 A community volunteer planting an artificial coral assembly. (Image source: "Sa Panahon ng Pandemya: Kalikasan ang Bida")
Gawad Alunig as a medium for sharing science stories
Gawad Alunig is a science journalism contest for Filipino citizens organized by the Technology Application and Promotion Institute of the Department of Science and Technology (DOST-TAPI). The agency launched the journalism tilt to recognize individuals who share news-worthy and credible science stories, in the hopes of amplifying the advocacy of putting spotlight on Filipino innovations and ingenuities.
Justine got wind of the national competition through her adviser. In their class, she was the only student who showed interest and came forward to join even though she had no prior experience in science journalism, save for her stint as photojournalist in the school campus.
Recalling her experience, "I was very overwhelmed to share the story of one of our communities here at our province in a national competition like Gawad Alunig. I really thank DOST-TAPI for recognizing science journalism. It is truly an honor to be part of its first science journalism contest", Justine expressed.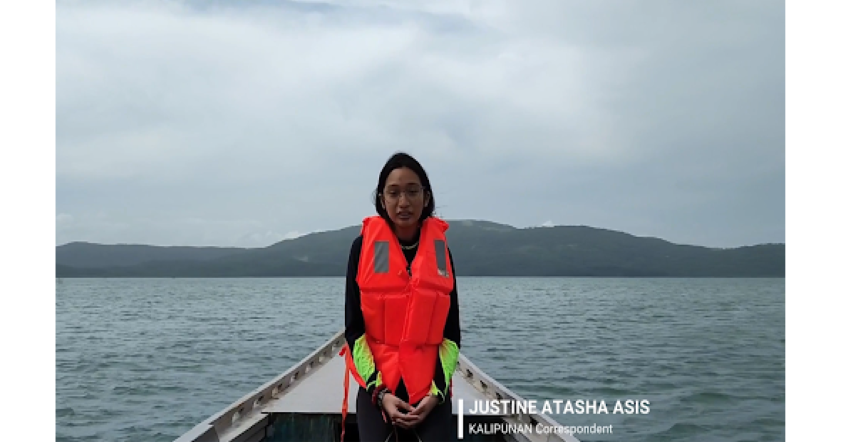 Justine on her way to Barangay Salvacion, San Jose Panganiban Camarines Norte. (Image source: "Sa Panahon ng Pandemya: Kalikasan ang Bida")
Realizations in the field
Remembering her visit to the island to cover her story, Justine noted that journalism is not an easy work.
"You really have to put yourself in the position of those people, not just metaphorically putting yourself in their shoes. You really have to go there to see the story for yourself, to share the truth, the truth and nothing but the truth because you saw the story with your own eyes".
And that's what she did, she explored the island and interacted with the community for days in order to come up with enough materials to develop a compelling narrative.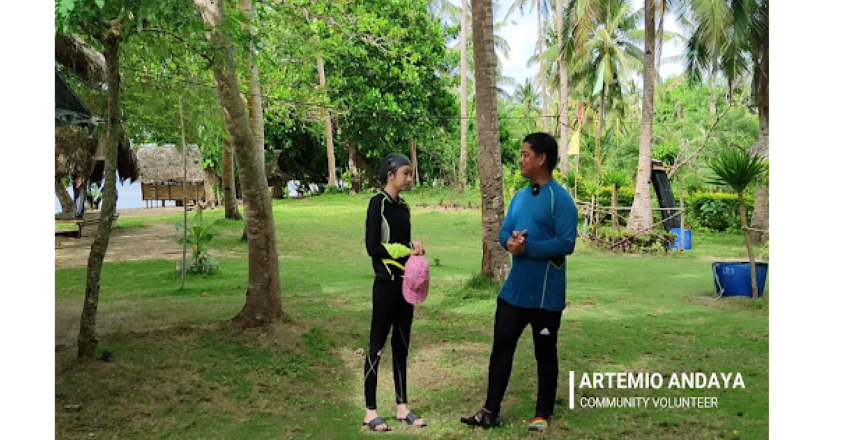 Justine interviewing Artemyo Andaya, a community volunteer in Barangay Salvacion. (Image source: "Sa Panahon ng Pandemya: Kalikasan ang Bida")
Justine with the community volunteers at the mangrove nursery. (Image source:Justine Atasha Asis)
But looking beyond the difficult part of journalism, she recognizes its importance in making people better appreciate science.
"…journalism makes news and information easier to understand… mixing science with journalism, [that is] science journalism. It makes science stories easier to comprehend for all and easier to appreciate", Justine emphasized.
Justine shared that the community members featured in the broadcast enjoyed the video and got invested in listening to more content that carries the journalistic standards of reporting. As for Justine, making her video entry made her appreciate the beauty and significance of nature. She commits to continue communicating science stories as she joins school organizations, school newspaper, and science clubs.
Message to students interested in science communication
Putting great emphasis on understanding and appreciating science, Justine hopes for students who are science enthusiasts like her to give science journalism a try.
"Science may not be for everybody to understand, but science is for everybody to appreciate, and science journalism is a great way for everybody to comprehend it".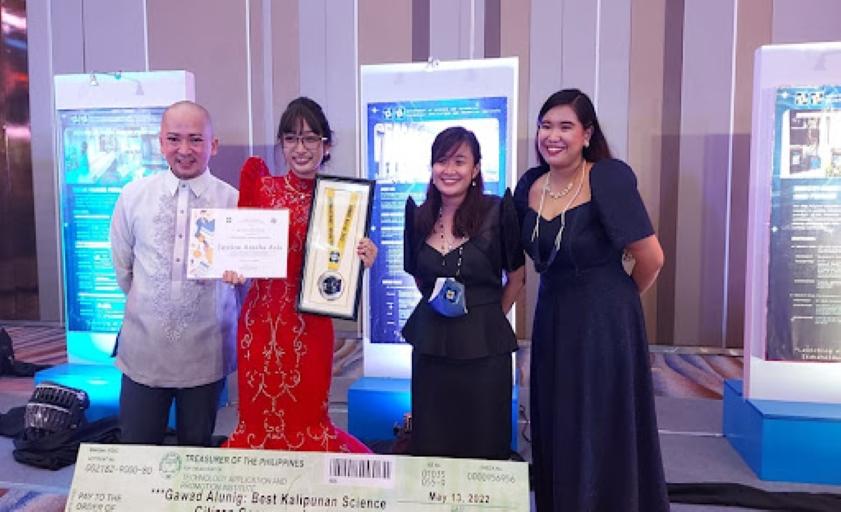 Justine Atasha Asis (second to the left), the first grand winner of Gawad Alunig with Marvin Eric Dela Cruz, Jana Maureen Jimenez, and Danicah Faith Lagman, the Gawad Alunig project team
Gawad Alunig has fulfilled its role of showcasing different innovation stories of local communities from across the country in its search to awaken budding citizen journalists. If continued, this competition hopes to become a springboard that would elevate science discourse in the country and would shine light to more stories of Filipino inventors and gamechangers on the ground.
Gillian M. Sagario
Intern, ACU-I
DOST-TAPI S&T Media Service