Roderick Nicolas's Alkaline Fuel Cell-Hydrogen Pro-life Solution (AFC-HPS) was first assisted by DOST-TAPI through its Intellectual Property Rights Assistance Program (IPRAP).  He was further assisted by the agency through laboratory testing and analyses. Years later, Nicolas applied for DOST-TAPI's Invention-Based Enterprise Development (IBED) Program to further improve the market-readiness of his invention
In the hunt for purpose, only a few are early to strike gold. Musicians, for instance, will pick up an instrument at a young age and find the rest of their lives devoted to the stage. Ambitious teens will shadowbox in front of mirrors until they notice themselves performing these very feats to a captive audience. There are also stories of latecomers—people who lead full lives before happening upon their life's work, but their tales are no less extraordinary.
One such story is that of inventor Roderick Nicolas.
Born in Manila, he relocated with his family to San Pedro, Laguna to continue their successful seafood distribution business. Perhaps as a consequence of running a lucrative business, his family was not particular about academic excellence.
Then a jockish basketball standout, young Roderick preferred having a good time over cracking his books. But doggedly rising above his thrill-seeking nature were his brains. He was an avowed jack of all trades in his classes. It proved his natural talent and an early instinct for innovation.
After finishing high school, he took up a two-year vocational course on computer technology in IETI College Alabang. Thanks to an already formidable work ethic, he found work as a welder as he was completing his studies. Upon graduation, he accepted a full-time job as a spot welder at a local paper mill. Seeing his admirable performance, the company offered him a promotion, but he gently refused as he was setting his sights to work overseas. He left the paper mill after six months.
In 1990, still young but with plenty of real-world experience, Roderick offered to work in his family's business. His parents promptly agreed and entrusted him with major distribution tasks. He would oversee and ride along for deliveries, which went deep into night. His downtime in between his rigorous work proved integral to his life: it was during these hours that his faith in God deepened. In taking in the word of God, he developed an appreciation of knowledge much greater than he would ever have.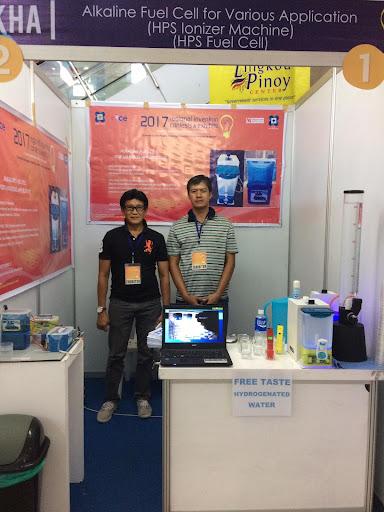 Inv. Nicolas participated in the 2017 National Invention Contests and Exhibits under the LIKHA Award for Best Creative Research Category. (Image source: Roderick Nicolas/Facebook)
In 2013, Roderick figured in a vehicular accident. He sustained injuries to his head, sidelining him from deliveries for a month. It was during his recovery from injuries that he was able to do independent research on hydrogen technology. He called this period as the time he was given "wisdom."
He took his initial cue from zero-emission initiatives in the U.S., particularly former California governor Arnold Schwarzenegger's push for a Hydrogen Highway in 2004. With swift work, in January 2014, he produced a hydrogen fuel cell prototype, which he attached to his vehicle. He secured a presentation with the Department of Environment and Natural Resources and was advised to patent his technology. In July 2015, he availed of the Intellectual Property Rights Assistance Program (iPRAP) from the Department of Science and Technology - Technology Application and Promotion Institute (DOST-TAPI) to support his research.
Since his accident, Roderick's time and resources have gone into what he considers his life's work. He hopes due recognition will come sooner rather than later.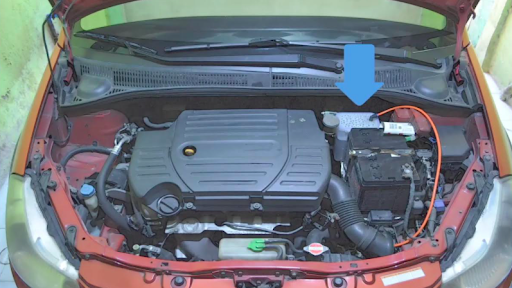 Inventor Nicolas' alkaline fuel cell allows more hydrogen flow through its gasket-free design. The device helps in complete burning of fuel in a car's gas tank and contributes to lengthening an engine's life expectancy. (Image source: Inv. Roderick Nicolas)
As he has done for decades, the inventor operates largely on faith. But it's a faith that has many a time reduced him to tears. Finding recognition for his work's potential in effecting change is its own cross to bear. There are currently, he confesses, not enough believers.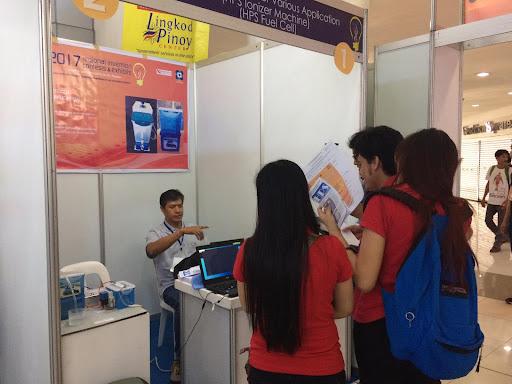 Nicolas entertained students and possible clients through exhibits organized by DOST-TAPI.(Image source: Roderick Nicolas/Facebook)
Now in his 50s, Roderick, on occasion, ponders a life in which he stayed with the family business. Father to a brood of nine, he often thinks of security and comfort for his children. But in a single breath, he is quick to regain his bearings and speaks with the assuredness of a man loyal to his calling.
The hydrogen infuser is the latest addition to Roderick Nicolas' inventions. This branched out from his first invention which was supported by DOST-TAPI's IBED program.(Image source: Inv. Roderick Nicolas)
"Nakakaranas ako ng kaunting hirap, [pero] hindi [ako] nagsisisi," he said.
Roderick's story may sound topsy turvy to some, but to him, he found a straight line between his faith and his life's purpose.
Fidel Feria
DOST-TAPI S&T Media Service