Taguig City – In order to equip more researchers and technology transfer officers in efficiently advancing more relevant technologies, the Technology Application and Promotion Institute of the Department of Science and Technology (DOST-TAPI) conducted the IP Valuation Writeshop-Training for the DOST Research and Development Institutes (DOST-RDIs) on January 16-17, 2020 at PCIEERD Conference Room, Science Heritage Building, DOST Compound, Bicutan Taguig City.
"We hope this event would capacitate and upgrade the market research capabilities of each participant for future applications," said TAPI Director Edgar I. Garcia.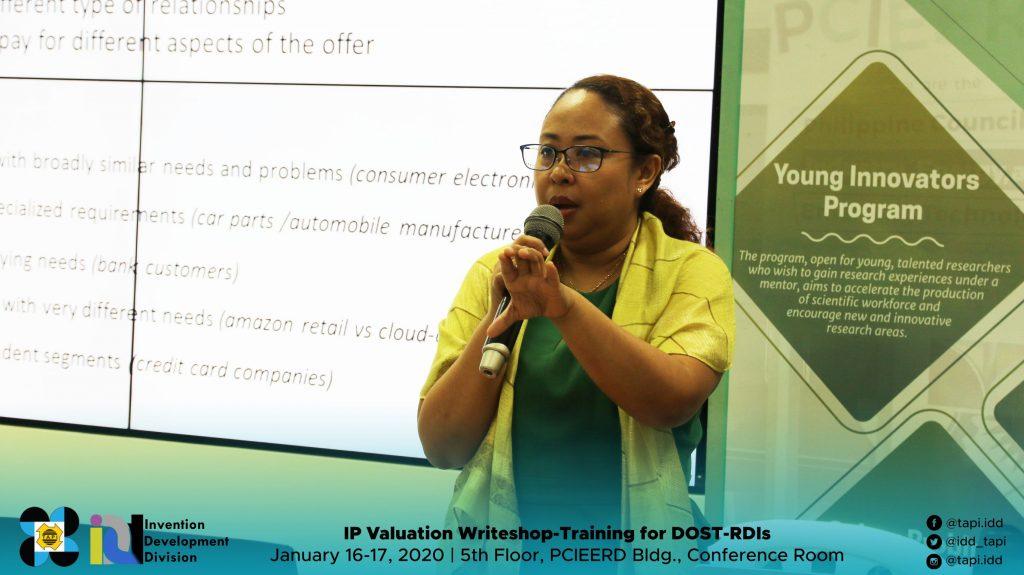 Atty. Anne Mariae Celeste V. Jumadla, a consummate intellectual property lawyer, accomplished patent agent, and owner of RevolPMente Innovation Management Services, served as the training resource speaker.
The entire workshop was divided into five (5) sessions where the fundamentals of market research, data, trends, and analysis were discussed.
"We, at TAPI, are focused on reinforcing and providing IP Rights assistance as we continuously support the idea that IP protection is a crucial preliminary step in successful technology transfer and commercialization. With this, there are a lot of plans and opportunities for us this 2020," said Dir. Garcia.
DOST-TAPI S&T Media Service
DARLA HASAN