Project Hirang: Moving the Movers.
In its bid to ramp-up the skills, network, and industry competence of its Technology Transfer Officers in the commercialization of government-funded technologies, the Department of Science and Technology (DOST) through the Technology Application and Promotion Institute (DOST-TAPI) has officially launched the country's first internship program designed for DOST Research and Development Institutes (RDI): Project Hirang which stands for "Honing Innovations, Research Agreements and Negotiations of Government-funded Technologies.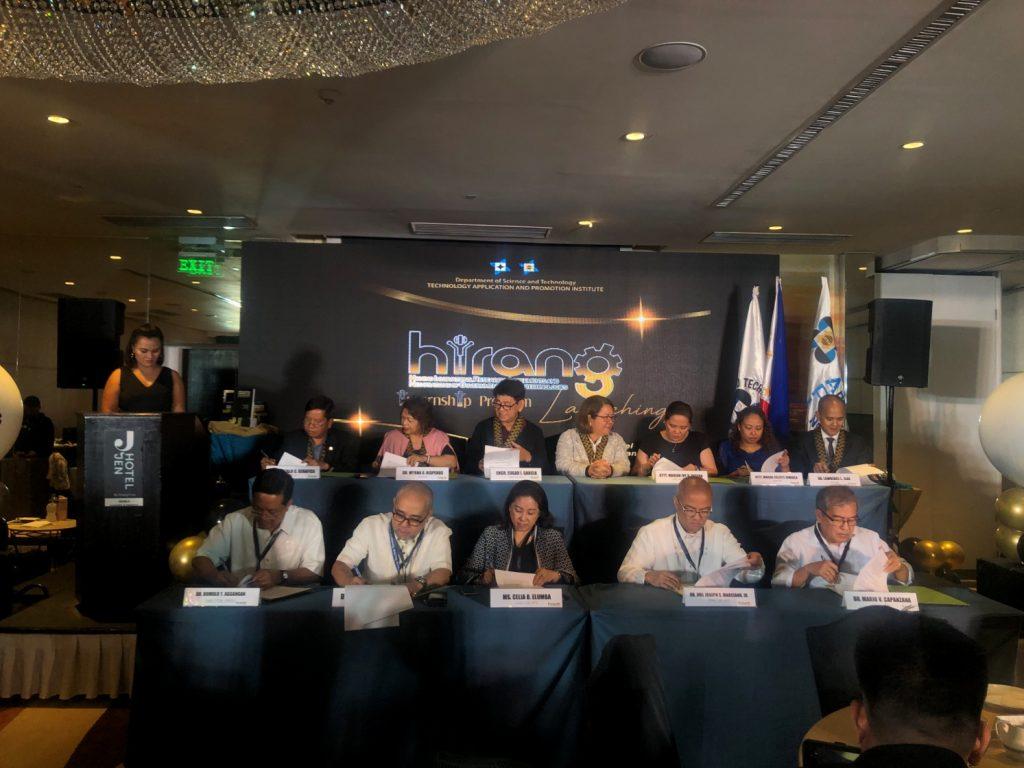 The MOU signing for Project Hirang was participated by DOST Undersecretary Rowena Cristina L. Guevara, Directors from DOST-TAPI and the seven DOST RDIs, including DOST-TAPI's Chief for Invention Development Division.
In a formal ceremony held on 27 January 2020 at the Hotel Jen, Pasay City, the DOST presented the interns from the seven (7) RDIs together with their industry mentors. The interns shall undergo an intensive six-month, one-on-one mentoring which includes hands-on coaching on the fields of Intellectual Property protection, valuation, and management. Actual negotiations with industry partners and potential investors are expected to result in signed licensing deals and collaborative contracts.
In her inspirational talk, the DOST Undersecretary for Research and Development, Dr. Rowena Cristina L. Guevara, said that the work of Tech-Transfer Officers is indeed very difficult because their task is considered the last mile and expected to translate to smiles with signed agreements. She acknowledged that DOST's commercialization experience needs building-up and Project Hirang is an opportune time to close the remaining gap. In closing, she highlighted that "Hirang" translates to chosen ones and as part of handpicked few, the expectations are high. The RDIs are expected to score licensing contracts amounting to at least 1% of their agency's Grants-in-Aid. With that, she challenged everyone to be part of the movement towards better commercialization landscape.
The Project Hirang is under the umbrella of the InventED package of DOST-TAPI, which capacitate inventors and innovators in the country. The project runs in partnership with the Balik Scientist Program and Visiting Consultancy Program of the Philippine Council for Industry, Energy and Emerging Technology Research and Development (DOST-PCIEERD). The launching ceremony was attended by Directors and representatives from DOST Regional Offices, RDIs and Science & Technology community.
DOST-TAPI S&T Media Service
MARVIN ERIC O. DELA CRUZ