In support to the objectives of the Science and Technology Superhighway Program  to facilitate and fast track the filing of Intellectual Property (IP) applications, the Intellectual Property Office of the Philippines (IPOPHL) spearheads the implementation of the first of five capacity building engagements on IP Formality Examination with the Technical Working Group (TWG) of the Technology Application and Promotion Institute (DOST-TAPI), the Philippine Council for Industry, Energy and Emerging Technology Research and Development (DOST-PCIEERD), the Philippine Council for Agriculture, Aquatic and Natural Resources Research and Development (DOST-PCAARRD), the Philippine Council for Health Research and Development (DOST-PCHRD), and the Office of the Undersecretary for Regional Operations held from April 7 to April 8.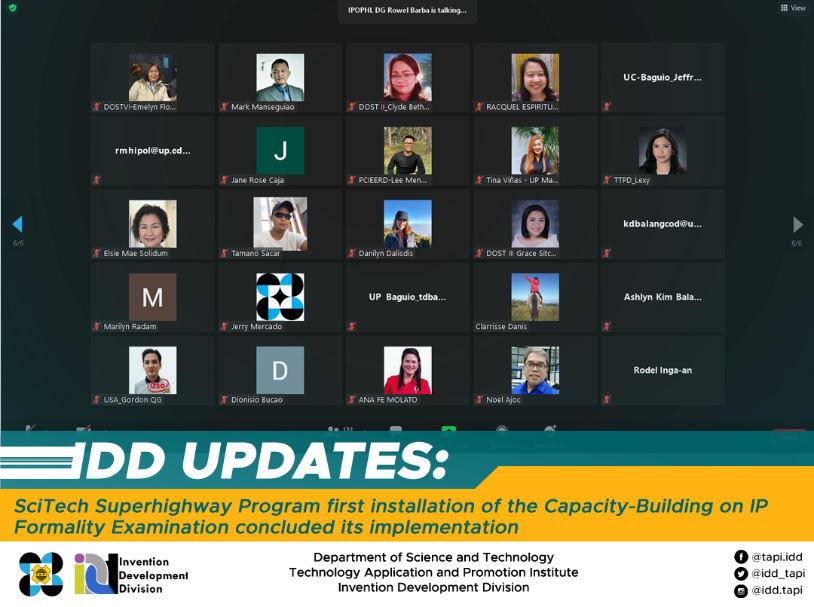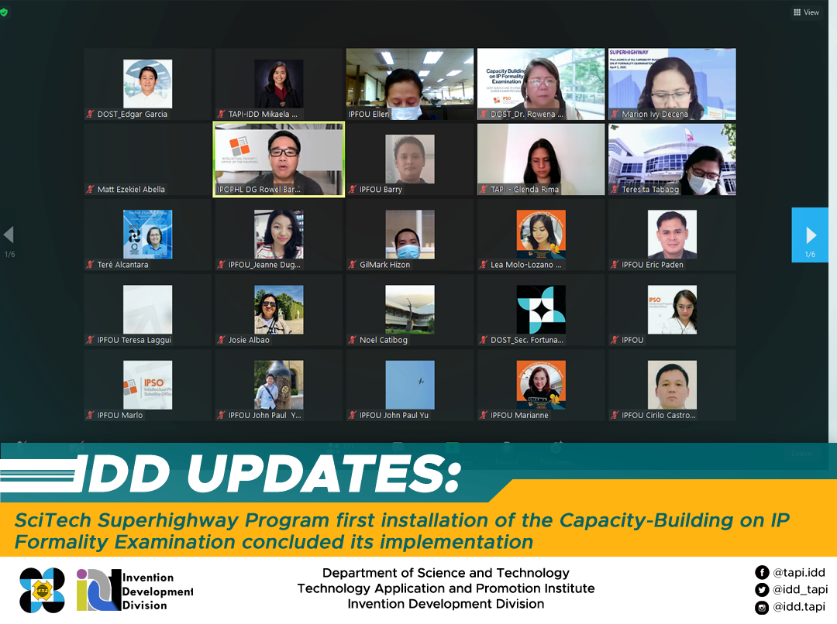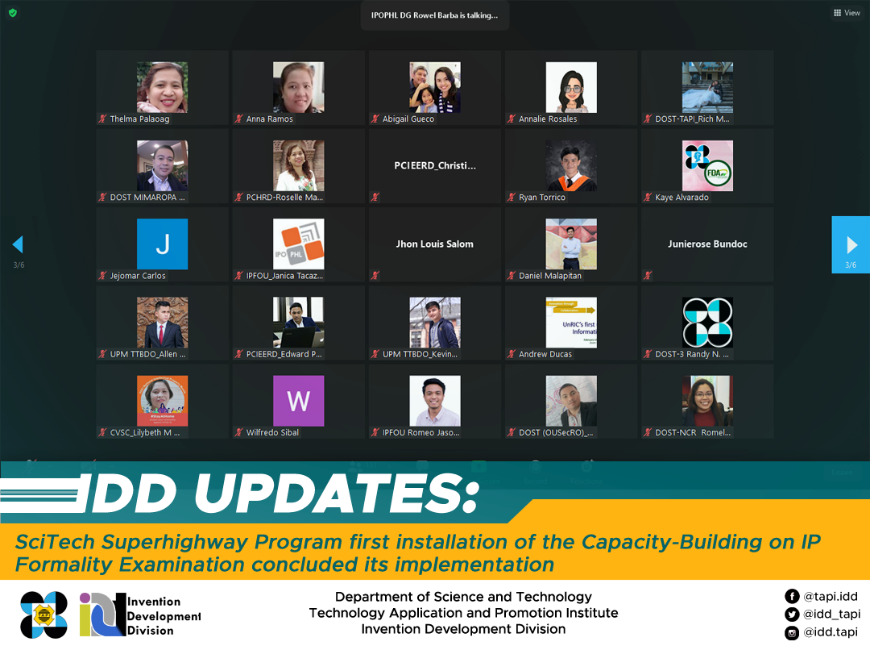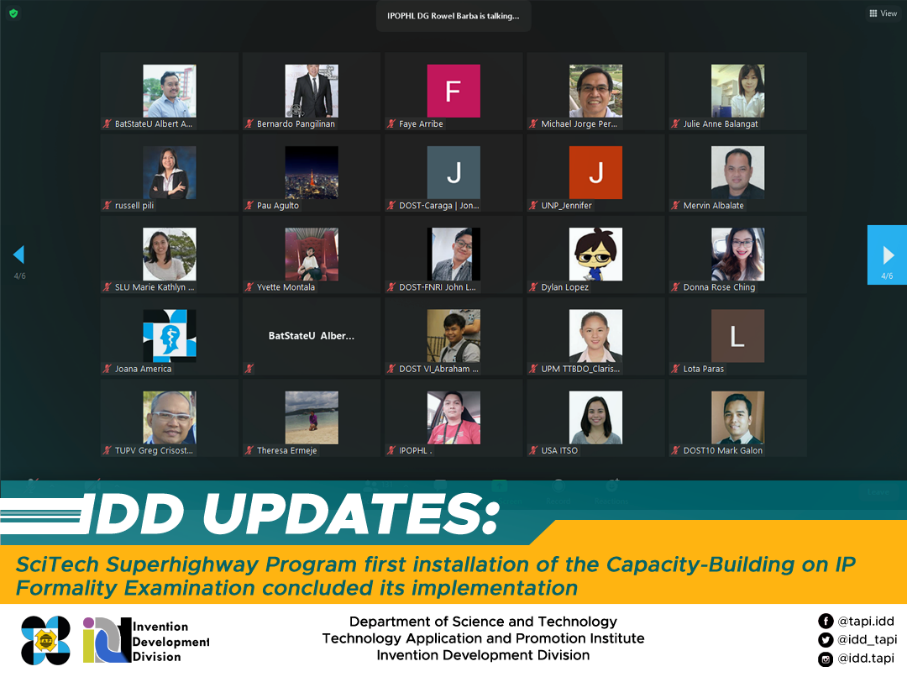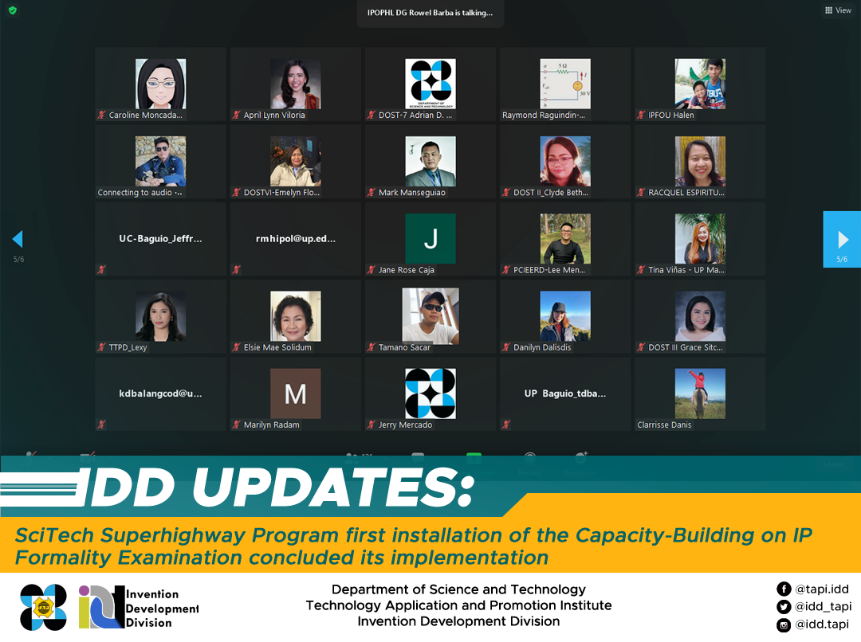 As stipulated in the Memorandum of Agreement for the SciTech Superhighway, the IPOPHL has the responsibility to provide capacity building and technical assistance to DOST on formality checks prior to the implementation of the Agreement which includes customized trainings, seminars, and workshops.
Hence, the IPOPHL conducted its first capacity building with their high-caliber experts such as IP Rights Specialists IV, Mr. Marlo Q. Carag, and Engr. Eric C. Paden, and IP Rights Specialist III Engr. Emmanuel M. Mendoza.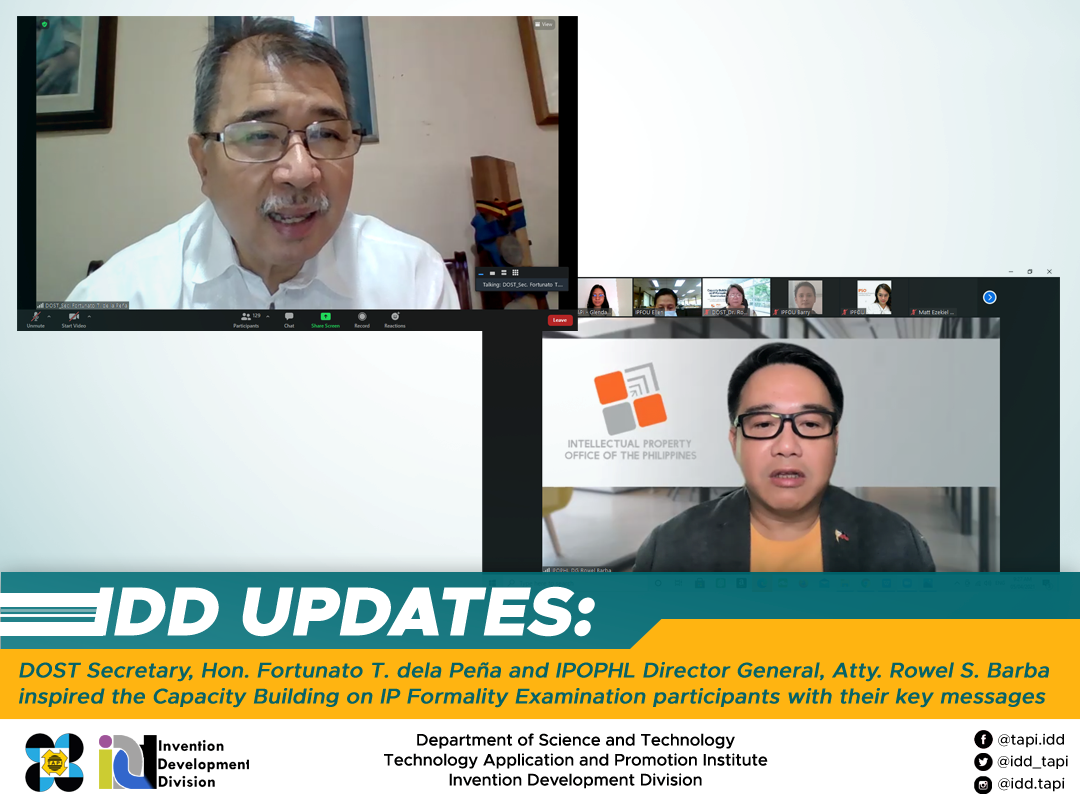 "It is our vision that this training will pave the way to boost the competence of technology transfer officers from the DOST and our partners all over the country.  As we continue to strive for socio-economic development while navigating the new normal, the sustainable innovations that can be generated with science and technology have never been more relevant.  This highlights the role of technology transfer officers in ensuring that DOST-supported research, products and outputs can be realized and contribute in helping solve the challenges we face today" highlighted DOST Secretary Hon. Fortunato T. de la Peña during the first day of the formality training.  
During this two-day virtual training, TWG representatives were equipped with in-depth discussions on the basics of intellectual property, the programs, services, and initiatives of the IPOPHL, trademark protection, patent information, and patent search, as well as patent protection.
Further, the participants were also given the opportunity to understand the patent application in a more detailed manner and acquire other relevant information on utility model and industrial design. Aside from the discussions and lectures, TWG representatives participated in analyzing some case studies.
There will be four more implementations of the Capacity Building on the IP Formality Examination during the month of April. The succeeding trainings are to be attended by the networks of the involved agencies such as DOST-PCIEERD, DOST-PCAARRD, DOST-PCHRD, and TWG members from DOST Regional Offices.
After these preparations, the Program aims to expedite the application processing of 400 UMs, 400 IDs, 150 Inventions, and 100 trademarks.
IDD S&T Media Service
REGINE PUSTADAN