Engr. Edgar I. Garcia led the commissioning of private sector partners to put up the DOST's first Intellectual Property Portfolio Management System – the IP database management and its online counterpart here at its Bicutan office, June 7, 2016. This is in fulfillment of TAPI's mandate to promote the commercialization of technologies and market the services of other operating units of DOST,
LEXlink IT Services will install the IP Database Management System that will monitor the deadlines, generate reports, payment activities and record office actions in different TAPI programs. This system will be beneficial to the agency since a lot of Filipino inventors and innovators are seeking IP and Non-IP assistance packages and is expected to help TAPI towards fast and efficient service which in effect will promote and strengthen partnerships and linkages with and among stakeholders.
Sytian IT Solutions, on the other hand, will handle the Web Development and Web Hosting services of the Intellectual Property (IP) Portfolio Website. Said website will showcase different DOST-technologies that were assisted by TAPI, categorized as Patent, Utility Model, Industrial Design, Copyright and Trademark. This website will be the medium of encouraging the Filipino inventors in the use of intellectual property and will also promote the Filipino inventions as globally-competitive and useful technologies.
These undertakings are under the project, "Support to the Commercialization of 500 DOST-Generated Technologies (CYs 2015-2017): Phase 1- Creation of an IP Database Management System and Provision of Initial Support to the Fairness Opinion Board for 12 DOST-Generated Technologies."
TAPI Director Edgar I. Garcia expressed confidence that the system being put up will become useful to TAPI and the DOST in particular, and the general public, especially the inventors and the scientific community.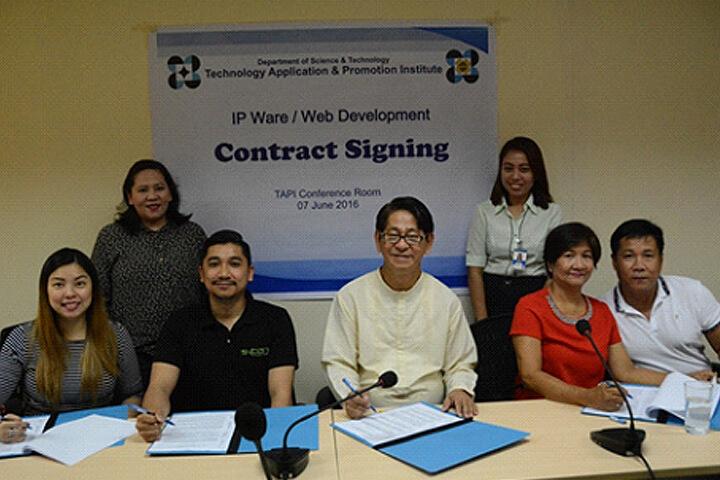 From left to right: Paula Krissel Sytian, Atty. Marion Ivy Decana, Barlaw Kenneth Sytian, Engr. Edgar I. Garcia, Engr. Richelle Cahanap, Jesusa Campilla and John Campilla.