Inspired by his family's construction business, Reynaldo Cruz invented his roof tile prototype. He became a beneficiary of DOST-TAPI's Concept Prototyping Program, which provides assistance in the prototyping of a potential invention. Inventor Cruz also availed of the agency's Testing Analyses Assistance and Industry-Based Invention Development (IBID) Program to prepare his invention's eventual commercialization.
For some people, passion and profession are two very distinct things. One is something where our heart is, while the other is something where our mind is.
Choosing between the two isn't always an easy decision, but for Reynaldo Cruz, he chose to go after his passion, without question. As a student, he spent long nights doing research and years of trying to put his thoughts into words. But instead of using his knowledge into practice, he used all these to do something bigger than what he had always imagined.
Building the foundation
It all began when his father opened a construction business. Although taking up an undergraduate degree in education at the time, Reynaldo grabbed every chance to work side by side with his father—following him wherever he went, climbing rooftops even with his fear of heights, and looking for solutions to unexpected problems. His father, who he considers as his "pakpak sa likod," has become a part of his decision-making.
Little did he know that his curiosity in construction would sprout his greatest invention: a roof tile prototype. This is a tile designed to produce good-quality roof tiles that can be customized to address potential roofing problems.
The idea came to him when he noticed that the main problem they encountered after a construction project was with the roof. So his father asked him to come up with a solution to fix this issue. And so he did.
Looking for ways to climb the ladder of success
Reynaldo used his background in education to put theory into practice, do numerous research, and study all the necessary information.
Despite the pandemic, inventor Reynaldo Cruz continues researching and testing his invention.(Image source: Inv. Reynaldo Cruz)
"Natuto akong ipaliwanag kung ano 'yung nasa isip ko. Natuto akong i-record 'yung mga nakita ko sa construction... Doon ko natutunan 'yung sa teaching," he said. "Ang experience ko kasi is actual, nasa labas ako ng [field]. Sila nagsusulat pa lang, nasa tuktok na ako. Tinitingnan ko na kung anong sira."
His perseverance and research have led him to the Department of Science and Technology - Technology Application and Promotion Institute (DOST-TAPI). He soon grabbed the opportunity for an invention assistance, wrote the write-up, researched about technical descriptions, and submitted the requirements. Later on, DOST-TAPI granted him funds to push through with prototype making.
However, a smooth transition is not always the case when it comes to succession in his family.
Choosing to weather the storm
Reynaldo is a father of three who are all taking up computer-related courses and have not much interest in their family business. But after several discussions turned into crying sessions as to who among his children will take over the business, his youngest child finally gave in.
"'Yung bunso ko ginawa kong co-implementor. Sabi ko, matanda ako ha, maayos 'yung katawan ko ngayon. Eh what if mawala ako? Ano'ng gagawin niyo?" he said.
For Reynaldo and his family, their differences in opinions only made their bond stronger than ever.
Being an innovator—as he'd like to call himself—starting something from scratch comes with people doubting his capabilities and detractors or naysayers refusing to believe in his potential, including his closest friends and family relatives.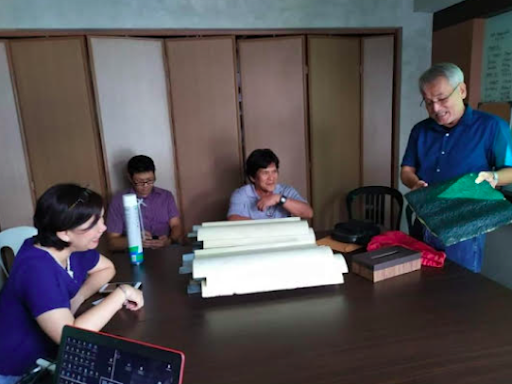 Inventor Reynaldo Cruz presents his invention to potential partners. (Image source: Inv. Reynaldo Cruz)
Despite these, he is confident that his family got his back no matter what other people say. He used this backlash to climb to the top of the ladder of success and prove his detractors wrong.
And soon enough, he did. Now those detractors are the very ones who ask him about his invention, what it does, and if he can customize one for their houses.
"Gusto kong patunayan na nagkamali ng pagtingin 'yung mga detractors ko. Kaya nakikita ko naman na nagbubunga na dahil pumupunta sila sa Facebook ko eh," he said laughing.
Asked why he is still willing to entertain inquiries from his detractors, he said that those kinds of criticisms are part of being an innovator. He didn't let these faze him as it will help his business and his invention to be known to more people.
For Reynaldo, as long as he knows that he's doing what he is passionate about, with his family by his side, he can conquer all storms ahead. With DOST-TAPI assistance, he is more than hopeful everything will proceed according to his visions.
Patricia Esteban
DOST-TAPI S&T Media Service