Taguig City - In 2020, the Department of Science and Technology (DOST) – Technology Application and Promotion Institute (TAPI) surpassed its annual targets for intellectual property (IP) filing, contributing part of the lion share in the country's IP register.
Despite a contracted national IP filing performance in 2020, the worst since 1998 according to the data released by Intellectual Property Office of the Philippines (IPOPhil), DOST-TAPI exceeded expectations as it achieved more than 100% of its annual targets in IP filing, further sealing its claim as one of the country's premier enabler of inventions and innovations.
The Institute was able to receive about 833 requests for IP assistance and facilitated the filing of at least 716 applications. These translate to the filing of 64 patents, 263 utility models and 37 industrial designs, adding up to the portfolio of technologies assisted by the Institute. Bulk of the IP assistance was provided for copyright applications.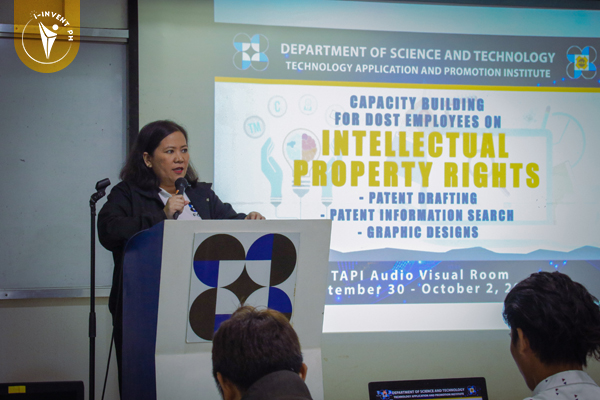 ​
"We are proud of these figures because these represent intangible assets that play crucial role in our competitiveness. We ourselves, have implemented various innovations within our Agency to ensure we can cope up with the demand and sustain the momentum, despite the challenges of the pandemic", said Atty. Marion Ivy Decena, Chief of the Invention Development Division.
The agency's sustained IP performance is attributed to its combined efforts to reach out to more private inventors, digitize its IP services, and forge better linkage with academe-based researchers through dialogue, partnerships, and campaigns. DOST-TAPI also partnered with top-notch IP law firms to deliver fast and high-caliber services to its inventor-clients. 
Under its Intellectual Property Rights Assistance Program (IPRAP), the DOST-TAPI provides technical and financial support to private inventors in the various stages of IP protection. This ranges from invention spotting, prior art search, drafting of patent claims, and answering formal and substantive examinations until the final granting of IPR certificate. All professional and government fees needed to secure IP protection are provided by the Program.
Last year, the Philippines achieved its highest Global Innovation Index ranking at 50th among 131 world economies. Among its highest ranking indicators, utility models by origin was ranked 8th globally, which contributed significantly in the country's overall innovation outcome.
"DOST-TAPI stands with our Filipino inventors in the protection of their technologies, which would help usher innovative markets and boost our competitive standing", added Engr. Edgar I. Garcia, Director of DOST-TAPI. 
For those interested in securing protection of their intellectual assets, you may visit https://techtrans.gov.ph/how-we-serve/for-investors-and-researchers/intellectual-property-rights-assistance-program-iprap for more information on DOST-TAPI's IPRAP. You may also send your IP requests directly at info@tapi.dost.gov.ph
Marvin Eric O. Dela Cruz
Senior Science Research Specialist
DOST-TAPI S&T Media Service